Revenge of the Nerds
(1984)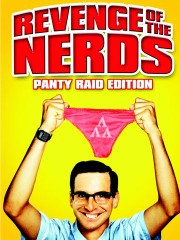 AUDIENCE SCORE
Critic Consensus: Undeniably lowbrow but surprisingly sly, Revenge of the Nerds has enough big laughs to qualify as a minor classic in the slobs-vs.-snobs subgenre.
Tickets & Showtimes
Revenge of the Nerds Trailers & Photos
Movie Info
Revenge of the Nerds is the juvenile sex comedy perhaps most synonymous with the 1980s, alternating gags and scantily clad women with a power to the underdogs mentality that prompted three sequels. The handsome jocks of Alpha Beta, led by Stan (Ted McGinley), run Adams College, which means that when they burn down their house after a stunt involving grain alcohol and an open flame, they kick a bunch of socially inept freshman out of their dorm and into the gymnasium. But sleeping on cots is only the beginning of their worries, as the so-called nerds soon become the target of pranks by Alpha Beta, assisted by Betty (Julie Montgomery) and the gorgeous gals of Pi Delta Pi. Instead of taking the abuse sitting down, the displaced freshman, led by Gilbert (Anthony Edwards) and Lewis (Robert Carradine), buy a ramshackle house, affiliate themselves with the only national chapter who will take them (the all-black Lambda Lambda Lambda), and use their superior intellect to launch a counterstrike. The bespectacled but loveable geeks set up surveillance cameras in the Pi bathroom and put liquid heat in the athletes' jock straps, then draft a sister sorority of misfits (Omega Mu) to strengthen their resources. The frats quickly become bitter rivals, and the goal is to win the annual fraternity decathlon, which involves such feats as a burping contest and a go-cart race, with bragging rights (and perhaps peace of mind) at stake. Look for John Goodman and future thirtysomething cast member Timothy Busfield in small roles, and expect a torrent of nasal laughter.
more
Cast
News & Interviews for Revenge of the Nerds
Critic Reviews for Revenge of the Nerds
Audience Reviews for Revenge of the Nerds
½
As far as raunchy college sex comedies go, I think this one falls somehwere on the higher end of the scale, but just slightly above the average mark. It's a good movie, but it doesn't quite have the intelligence or amazingness to be at the level of true satirical brilliance like Animal House.

It's a fun movie though, and deep down, I think we can all relate, maybe not to being full on nerds, but to definitely being picked on at some time or another. I myself fully admit to being a nerd, but I object to being compared to the nerds in this film. If anyrhing, these guys aren't really nerds, but super mega geeks and dweebs. Or they are nerds, but they are the stereptypical kind who give us "somewhat normal" nerds a bad name and reputation.

This film tries to add a little depth but having some diatribes on being a minority that could have really been potent, but mostly come off as a litle cheesy and pedictable (but in a okay way). There are some parallels to stuff like Civil Rights, but it's played lightly and, being an 80s comedy, there are some jokes that don't really fly nowadays which kinda undercuts what parallels one might try to pull out of it.

God, I'm rambling now, and making more out of this than I probably need to. Basically this is the classic stroy of a bunch of marginalized nerds who finally decide to get revenge on the people who make their lives miserable. There's a lot of good moments, most of them really silly, but some of the jokes are actually pretty smart.

The cast is pretty good, and I really liked seeing Bernie Casey, John Goodman, and James Cromwell (credited as Jamie Cromwell lol) show up. All of the nerds are pretty likeable, but I think my favorite is probablyCurtis Armstrong's Booger- the rebellious bad ass of the group.

As I said, I don't think this film is really terrific or anything, but it's funny and has a nice knd of charm to it.
Chris Weber
Super Reviewer
Booger: Step aside momma, I wanna see some of that muff! 
Takashi: Oh Hair pie! Hair pie! 

"It's time for the odd to get even!"

Revenge of the Nerds is a fairly good raunchy 80's comedy. It does have some really great scenes, such as the music competition. For the most part it's nothing but an average comedy though. There's nothing really special about it. I did love a few of the characters like Booger, Oger and especially Takashi. Those are the bright spots for me and everything else is just the normal underdog story.

Jocks pick on nerds. Nerds get upset and make jocks pay. I don't really understand a lot of the love for this movie, but, I'm not saying it's horrible by any means. I enjoyed it for the most part. I got out of it what I expected and I guess that's all I could really ask for. 

It is better then watching a lot of the Late Night Comedies that come out now a days. At least Revenge of the Nerds had some intelligence to go along with their sex and drug filled humor. 
Melvin White
Super Reviewer
Revenge of the Nerds Quotes
Burke: Let's get those nerds!
Stan: Nerds!
Ogre: NEEEEERRRRDS!
Takashi: Excuse, please, but why do they call you 'Booger'?
Booger: [picking his nose] I don't know.
Booger: [Lewis and Gilbert are discussing Gilbert's girlfriend, innocently] - Big deal! Did you get in her pants?
Gilbert: She's not that kind of girl, Booger.
Booger: Why? Does she have a penis?
Betty: Nerds saw me naked!
Discussion Forum
Discuss Revenge of the Nerds on our Movie forum!
News & Features