Rich and Strange
(1931)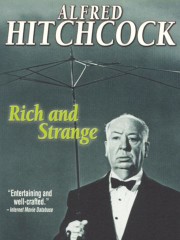 Movie Info
This atypical Alfred Hitchcock effort is a cautionary fable which lends credence to the old saw "Love flies out the door when money flies in the window." Joan Barry and Henry Kendall play a young married couple who suddenly come into an inheritance. Bored with their working-class existence, hero and heroine embark upon a world cruise, and it isn't long before Barry gets romantically involved with a landed-gentry gentleman. Meanwhile, Kendall is swept off his feet by a phony princess, who tricks him out of all his money. Broke and miserable, Barry and Kendall head home on a shabby cargo boat, only to find themselves in the middle of a shipwreck. The couple is rescued by a Chinese junk, where the solemn crew members dine on their pet cat. By the time Barry and Kendall have returned to their humble suburban lodgings, they've both learned the sagacity of remaining in their own back yard. Partly a sophisticated sex comedy, partly a grim seafaring melodrama, Rich and Strange had the negative effect of confusing the public in general and Hitchcock's fans in particular, and as a result the film, which remains one of Hitch's best early talkies, died at the box office.
more
British International Pictures
Cast
News & Interviews for Rich and Strange
Critic Reviews for Rich and Strange
Audience Reviews for Rich and Strange
Chris Weber
Super Reviewer
Very early Hitchcock, this one came from the Alfred Hitchcock Legends of Hollywood, which are 12 Public Domain Films by BCI, This is long before Hitchcock started producing great films. About a couple who are struggling to survive when a rich Uncle gives them all the money they need to travel and find happiness, what they find is each cheats on the other and lost there money along with there return voyage ending in a sinking at sea, but they survive only to go back to London to have what they started with, Nothing. This one was made between silent films and Sound and this movie has some of both in it. 2 Stars
Bruce Bruce
Super Reviewer
Rich and Strange really is not very good at all. But it does have a couple of exciting Hitchcockian sequences. The visual story telling of the opening scenes is typical Hitch and is clever and very funny. Also the ship sinking sequence is an early example of his mastery of suspense: Filmed entirely from inside the cabin, he wrings out the claustrophobic panic of our heroes - the panicky pandemonium of the passengers is only heard, the sea bubbling outside the port-hole then the lights go out as water seeps through the bottom of the door. It's a rather dark, quite moving and spooky sequence in what is an otherwise upbeat and rather clunkingly bad film.
The film is also rather gently subversive (for it's time at least) in the sense that Emily (Joan Barry) is very much in charge here. And during and after the ship sequence she takes on what is typically the man's role, that of the protector, because her husband, Fred (Henry Kendall) is actually rather a weakling. Add to this the fact that many commentators believe the leads are autobiographical of Hitch and Alma (they were great travelers and very much the naive innocents abroad - at one point even finding themselves at an orgy!). So maybe the Hitchcocks' are sending themselves up?


Discussion Forum
Discuss Rich and Strange on our Movie forum!
News & Features