The Rise and Fall of Legs Diamond
(1960)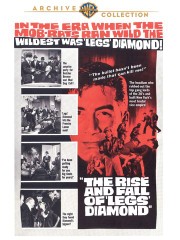 Tickets & Showtimes
Movie Info
The notorious Legs Diamond works his way up the underworld latter in a matter of fact, casually told depiction of the 1920s crime boss. Legs (Ray Danton) extorts money from gamblers, bootleggers and speakeasies after taking over for his slain mentor, Arnold Rothstein. He lights a girl's dress on fire in order to win a dance contest and seemingly murders as easily as he breathes.
more
Cast
News & Interviews for The Rise and Fall of Legs Diamond
Critic Reviews for The Rise and Fall of Legs Diamond
Audience Reviews for The Rise and Fall of Legs Diamond
You don't have to tell me you love me, I know you don't.

Jack 'Legs' Diamond and his sick brother hold up in New York and begin a life of petty crime and thievery. When Jack gets arrested, he decides to step their game up a notch and become a crime boss. He quickly climbs the ranks but gets a little too confident.

"Are you married?"
"Yes. Yes, but not to her."

Budd Boetticher, director of Seven Men from Now, The Tall T, Ride Lonesome, Comanche Station, A Time for Dying, The Cimarron Kid, and Bronco Buster, delivers The Rise and Fall of Legs Diamond. The storyline for this picture is very well done and contains some fantastic shootouts. The script is solid and very well delivered. The cast includes Ray Danton, Karen Steele, Elaine Stewart, Simon Oakland, and Dyan Cannon.

"Everybody wants favors."
"I'm not asking for a favor."

I saw this picture on the Turner Classic Movies (TCM) schedule some time ago and DVR'd it. I finally got around to watching it and thought it was very clever and well done. This isn't perfect, but is a worthwhile addition to the classic gangster genre and in-line with Bogart classic gangster pictures from this era.

"I already have a partner tonight."
"I'll get rid of him."

Grade: B
Kevin Robbins
It does well on a low budget, the cast of unknowns are quite good. I did find the complete lack of period detail a bit irritating, but it has a good pace and was always interesting.
James Higgins
Discussion Forum
Discuss The Rise and Fall of Legs Diamond on our Movie forum!
News & Features