Robin and the Seven Hoods
(1964)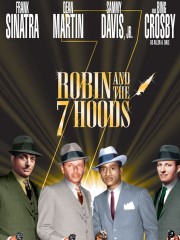 Robin and the Seven Hoods Trailers & Photos
Movie Info
The Rat Pack packed it in after this sprightly musical comedy that owes more than it should to Damon Runyon's stories and Frank Loesser and Abe Burrows's classic musical Guys and Dolls. Sammy Cahn and Jimmy Van Heusen's bright and snappy score features such songs as "Style", "Bang-Bang" and the Sinatra standard "My Kind of Town". Set in 1920s Chicago, the tale begins during a birthday party for head mobster Big Jim (Edward G. Robinson) who is shot to death during the celebration. Rival gangster Guy Gisbourne (Peter Falk) immediately declares himself the chief gangster. The northside gang, headed by Robbo (Frank Sinatra) is willing to grant Guy his self-declared title as long as he leaves the northside territory alone. Guy refuses and when small time hood Little John (Dean Martin) joins Robbo's crew, turf warfare breaks out between the two gangs, resulting in the destruction of both Robbo and Guy's nightclubs. Meanwhile, Big Jim's daughter Marian (Barbara Rush) offers Robbo $50,000 to find the man who killed her father. Robbo demurs and gives the money to his henchman Will (Sammy Davis Jr.) to get rid of. Will, hoping to do a good deed, hands the money over to Allen A. Dale (Bing Crosby), who runs an orphanage. Allen, finding out that the money came from Robbo, informs the newspapers of Robbo's philanthropic enterprise and Robbo immediately becomes a local celebrity, referred to as Chicago's Robin Hood. For his part, Robbo is willing to go along with the publicity. On the romantic front, although Robbo is attracted to Marian, he gives her the brush-off when he finds she is using a charitable foundation as a front for a counterfeiting ring being run by herself and Little John. Robbo tells Marian to leave town. Instead, she hooks up with Guy, proposing that he kill both Robbo and Little John. ~ Paul Brenner, Rovi
more
Rating:
G
Genre:

Drama

,

Musical & Performing Arts

,

Mystery & Suspense

,

Classics

,

Comedy

Directed By:

Gordon Douglas

,

Gordon M. Douglas

Written By:
David R. Schwartz, David R. Schwarcz, John Fenton Murray, David R. Schwartz
In Theaters:
Jun 24, 1964 Wide
On DVD:
Jan 8, 2002
Runtime:
Cast
News & Interviews for Robin and the Seven Hoods
Critic Reviews for Robin and the Seven Hoods
Audience Reviews for Robin and the Seven Hoods
[color=black]Is deliberately using the word "random" supposed to be some sort of irony? It's weird, but I've seen people try to do this as a sort of tongue-in-cheek maneuver. Huh? Fallacy, I say! Words, people! They're words, which are merely collections of simple symbols configured and reconfigured in a multitude of manners to [i]try[/i] and give meaning to the unlimited breadth of ideas and emotions that we humans have inside us and use to communicate it to other humans via the written symbol and the spoken utterances these "words" are designed to sound like. That would mean to insinuate that the [i]words[/i] we use are supposed to completely emulate the concepts they represent. What I mean is, more simply, random is much more than "random". These words I use are just the doorways into the much more spacious thoughts. Calculate the use of the word "random"??? That's sort of like saying the word "consistent" inconsistently. Ironic? Bah. No different than saying the word "chainsaw" inconsistently (unless chainsaws, deep in their wretched, ash-spewing souls, moderate their very way of existence through a rigid regimen of practicing evil which is [i]dictated[/i] by consistency. Then irony might have a footing with that one.).[/color]

[color=black]Anyway, enough with all this meaningless rhetorical crap. I'm just pretending to rant, really. :p[/color]

[color=black]I'd describe this as entry being random, but to refrain from using a label I just backhanded, I'll call it being "Rando". Yep. [i]Rando[/i]. Where's the doorway to the thought [i]there[/i], eh? Here's your homework, grasshoppers: I give you the doorway, and you [i]create[/i] the thought on the other side of it, however spacious, claustrophic, whatever. Your homework is due...(looks at watch)...now. Done? Good. OK, just put it in my virtual totebox on your way out of my journal. Thanks.[/color]



[color=black]...[/color]






[color=black](continues on with entry)[/color]




[color=black]So...wordplay, eh? Who doesn't like it?[/color]

[color=black](watches some members of the imaginary crowd raise their hands)[/color]

[color=black](pulls out sniper rifle and takes aim and the hand raisers)[/color]


[color=black](watches those hand raisers fearfully assimilate themselves with the rest of the non-hand raisers)[/color]

...

[color=black]Work. It's been the common denominator of my life the past...oh, [b]5 weeks[/b]!! That will become clear as you read my work-related musings henceforth in this entry. Ugh. It should clear up for a bit next week. But then back to the merciless grind for another week.[/color]

[color=black]There are some days at work where I actually work in a soulless computer dungeon, which work calls a "browser lab" - yet people rarely work in there, save for people like me. It's a pretty big area, but cold and sterile, with team of computer workstations lined up shoulder to shoulder, each monitor propped slightly upwards, as they all thoughtlessly study the robotic stillness of the room. Bundled like firewood on the shelves are old keyboards, rounded up with USB wires to be either deployed for the off-chance of future use, or to continue their wholly uninteresting collection of various dust particles. I think they were all sleeping when I came into the room, and remained that way during my quiet visit. Too bad they don't realize their uselessness. On the far end of this prison cell are 8 giant server machines, which all reminded me of HAL9000 from 2001: A Space Odyssey. "Hello, Neum" they all said in wordless unison, sending a fragile shiver tumbling down my spine. I took a seat at the computer furthest away from the HALs.[/color]

[color=black]To keep these servers cool, there are fans working 'round the clock, blowing cold air to keep the room at a balmy fifty-five freaking degrees!!! (well, it felt like that) I had to practically keep my fleece jacket on while working, even though it was t-shirt n' sandals weather outside. When I was finished for the day and switched off the lights, the room revealed its hidden colors. Bravely standing tall in the darkness were these tiny twinkles of red, orange, green and yellow, reminding me that their silent celebration of lifelessness will persist through the night hours.[/color]

[color=black]Man, that room sucked.[/color]

...

[color=black]There are times during long stretches of guzzling workahol, sitting at the computer, when, for some reason or another, I get really excited about things. Energy, trying to escape me, like the carbonation of a shaken-up bottle of Victory Champagne. The bubbles inside me multiply, separating themselves from each other, yet joining hands and pounding on my walls, trying to break free. "Sound an alarm for the warden!" Then a rebellious ray of sunshine trickles through from a far off window, and manages to splash itself across my face. In moments like that, I could just kick over my chair and begin running in circles around it until I collapse. But, I kept my lid on. The inner bubbles eventually gave up, merging into one another again, until there were no more. "Hail the warden!"[/color]
[color=black]I think that excitement eventually leaks out of me, but not in the burst of gleeful foam I prefer. There are better ways to harness such energy. :([/color]

...

[color=black]Hmm.[/color]

[color=black]I'm sure we all know how annoying it is to get a song stuck in our head. Shoot, I just made a journal entry about it a coupla weeks ago. [i]However[/i], while I'm at work, it isn't so bad. It's more like something to cling onto in the midst of my long days. So many irresistably catchy tunes nestle themselves in my stale brain and begin their vicious record-skipping loop, and I fully embrace it. Over and over and over the song plays in my head. And ya know what? I'm OK with that, at least while I'm trading stares with a computer. I've even caught myself humming out loud. That song eventually fades into memory's obscurity, and then I stumble upon another chest full of songs in the dingy attic in my head. And it begins again. On and on the cycle of cycles continue, providing the soundtrack to my usual rambling course of thinking. Finally, the whistle blows, and I gracefully slide down a dinosaur tail and hop in my Flintmobile to race on home. Yabba dabba doo![/color]

[color=black]Aw crap, now I got [i]that[/i] theme song stuck in my head. :mad:[/color]

[color=black]:p[/color]

...

[color=black]This has happened to be several times before, but while driving home from work, my feet begin to feel like they're suffocating. It gets so bad that sometimes my 3rd and 4th toes on my right foot begin dogpiling each other. Always those troublesome middle toes. They seem to leave the pinky toe out of their wrestling matches, probably because they pity it. And they never mess with the big toe. That would be like trying to tackle a forklift. It just ain't happenin'. The problem is, however, that I can't just reach down and "break up" the toes' squabbling, unless my car is better at off-roading than I think it is. Not sure I wanna test that at 65 mph (oh who am I kidding? 75 mph :D). So, I must turn a blind eye and let the toes continue to duke it out, trapped in my sock. Until I get home anyway.[/color]

...

[color=black]Couple weeks ago, while driving home, I was trying to sing pretty loudly on this high note, and I think I sprained my throat. Seriously, I had to be very delicate with my voicebox after that. I could still talk, but sing? Well, I was on the sidelines for a coupla days after that incident (I blame Boston's Brad Delp for his ridiculously high singing voice).[/color]

...

[color=black]Hmm.[/color]

...

[color=black]Just realized this: I like UB40 more than I like Bob Marley. :D Marley's solid, but I guess I find him a bit over-lauded, and nothing truly remarkable, aside from the great messages he preaches. But UB40...[i]they're[/i] good stuff. Heh.[/color]

...

[color=black]Radio playlist on my last drive home: Beatles, The Who, Norah Jones, John Maher, some jazzy little number, Cheap Trick, Shocking Blue - "Venus" (original), The Four Tops, Tears for Fears, Creedence Clearwater Revival. A solid line-up for just one drive home. My ears had to swallow only a few moments of commercial-coated soundwaves. That was nice.[/color]

...

[color=black]Speaking of music, I recently acquired 4 new CD's, which is a refreshing change of pace since I trashed my Kazaa. Simon & Garfunkel, AC/DC, Janis Joplin & Blue Oyster Cult: all artists I had tragically little representation in my collection. That was mainly because I had stuff of their's only on burned compilation discs, and not any real albums. Glad that's now remedied.[/color]

...

[color=black](Funny how all the interesting things that happen while driving are on my way home :p. Probably because I'm half-awake on the drive [i]to[/i] work, and I don't really remember much, except for reminding myself that the sun really does exist on Monday through Friday.)[/color]

...

[color=black]So I uh...had sort of an embarrassing incident last Friday...[i]while driving home[/i], naturally. I woke up Friday morning feeling really bummed out, but I'm not entirely sure why. My mood all of Easter weekend was very pensive and absorbing, and it began that morning. Anyway, after I got off of work (late night yet again, even on a Friday), I [i]completely and utterly forgot[/i] about the mental note I made to go to the gas station afterwards. Yeah, I was low on gas. Really low. I kinda didn't realize it until my car started coughing and wheezing 10 minutes into my commute home. "Oops. I mean, DAMN!" Luckily, the highway wasn't crowded, since, ya know, most normal people are out doing something non-highway related at 8:30 on a Friday night. I was able to coast through an off-ramp, and settle right next to a mailbox on a dark road. The seemingly large residence was guarded from view by a large, ivy-covered fence. I hopped out of the car, peered in, and read the sign that just now jumped out at me: "Church of the Redeemer, Orthodox Church." The church was [i]packed[/i], seeing as how it was a Good Friday vigil. Instead of throwing open the doors and begging for help (which was tempting), I kindly asked a guy standing outside, holding his young kid: "Do you know where the nearest gas station is?" "Oh yeah, down the road a couple of lights, hang a right, and there's one about a mile and a half down the road." I thanked him, and began walking. Well, it turns out that "a couple of lights" also meant a mile and a half, as this church pretty far off from most things commericialism. So, I walked through darkness. Lots of darkness.[/color]

[color=black]This frontage road I was walking down had a line of old homes on one side, and this tall fence lined by trees on another. Branches hanging above me, bushes and a 10 ft. fence on my left, homes with their porchlights switched off on my right. And an empty road. When your mind is on edge like that, any little change in your surroundings is noticeable. When a pair of headlights blinked over the horizon, I made sure to walk faaaar off the road, through the bushes, since I so morbidly love to play the image of a car accidentally clipping me as it veered off the road through my head. Then you guys would never know. Gah! Me and my dark thoughts![/color]

[color=black]It's funny, though, how a little "event" like filling up gas into a little 2 gallon container can completely shift your thought process. Basically, I had a delightful little monologue while walking on my way back from the gas station. Wondered a lot of things out loud, asked a lot of the "right" questions, and so on. I thought a lot of things that were so very "thinkable", worth thinking. I also wondered why I don't [i]remember[/i] these great thought tangents I go on. I mean, I do on a general level, but a lot of the details are lost in the moment. I think I have a pretty darn good photographic memory too, and yet I can't take a snapshot of some of the things that go through my head. [b]"Mental note: remember your mental notes!"[/b] The encouraging thing is that I know I can hold a great monologue with myself again, about whatever, whenever, however. So all is not lost. :p[/color]

[color=black]But yeah, strange weekend for me. It was all in my head too. Monday morning brought me out of my "slump". Easter was still good, though. Hope everybody else's was the same.[/color]

...

[color=black]Speaking of "snapshots", I tried to take a few on some of my recent hikes (I've been to 3 beaches in the past 4 weeks - all on weekends). Took some cool shots here n' there. Well, cool [i]in theory[/i], if my camera was at ALL competent and actually had ZOOM!! If anything, it makes all my pictures look smaller! Backwards zoom! I could take a close-up shot of a flower, holding the camera in front of my face, and the picture would develop as having taken a photo of the back of my head. So I exaggerate, but still...[/color]

...

[color=black]I was at Pescadero Beach this past weekend (I was gonna be in Monterrey today too, buuut...well, my room needed a cleaning, or something to at least tip the scales of the [b]chaotic[/b] room back towards [b]order[/b]). It was foggy on the shores last weekend. Indicative of my state of mind? That'd be too easy to say. Anyways, as I drove out of the fog, I had to pull off to the side of the road and bare witness to this:[/color]


[color=black][img]http://home.comcast.net/~mateo110/Combing_fog.JPG[/img][/color]

[size=1][color=black](Damn camera. Guess you had to have been there. This was near Half Moon Bay.)[/color][/size]


[color=black]Yes, the fog was combing over the hills and towards the lake, with the bright (too bright) sun above it. It was quite a heavenly vista.[/color]

...

[color=black]Somtimes when I'm at home, I experience that "shook-up bottle of champagne" feeling of excitement yet again. And this time, I pour it all over the place! :D Lotta times, I can't find any better way to express this excitement than to put my body in motion. Almost always, the convenient solution is to turn on some music, and turn the volume [size=4]UP!![/size][size=2] I just dance. Dance like crazy, dance like hell, dance like there's no tomorrow...I do it all. :D When there's that kinda energy in me, the music just flows right through. I [i]am[/i] the music. Ah, it's a great feeling. I had one of those a few nights back.[/size][/color]

...

[color=black]ALSO a few nights back (like my transitions between thoughts? :p), I had a nifty dream. Usual Neum fare. Definitely weird. Though [i]all[/i] of our dreams are inherently weird, since we gauge the dream reality against our own conscious reality. I mean, how can they not come off like "Man, I had such a weird dream last night"?[/color]

[color=black]Anyway, my dream was fairly Orwellian. In fact, he should sue. Or, his estate anyway. I practically ripped him off. There are other influences there too, but...OK, so it's just a dream, still with a lot of irrationalities, etc. Wannahearit?Hereitgoes![/color]

[color=black]The dream was mostly of blacks, whites, and bright gold borders. I was a member of the Midnight Men (though I was more just an observer to the dream, than a participant - which is a drastic change of pace for me), a group of tyrants dressed in long black coats, black derbies, and with pale faces. They work for The Greaters, who remain completely unseen in my dream. They rob The Lessers ("society") of their books. They barge into homes, take any regular books, and instead of destroying them, they [i]change[/i] them. All books are brought back to this strange book fortress, and [i]re-written[/i] into "The Manual". The walls were made of "The Manual", or various older versions of it. What the Midnight Men do is update "The Manual" constantly, revising existing copies, and converting other books to the latest version. "The Manual" is a collection of rules for society, on how to live and how [i]not[/i] to live. The Midnight Men would even break into people's homes, wreck the place, only to take their existing copy of "The Manual", and replace it with an updated version. Tyranny at its finest.[/color]

[color=black]Yet The Greaters were wise. They knew The Lessers could not take a literary diet of [i]just [/i]"The Manual". So they created the Midday Men, a group of creative individuals removed from society (so they won't be a danger to anyone), to create "real books"...books of substance. These books were intentionally distributed in secret places amongst the dwellings of The Lessers, so as to secretly appease the always-present creative anomaly of society, at least the few daring souls who would seek these books. The vicious cycle was that the Midnight Men [i]knew[/i] where the Midday Men's books went, so they broke into the homes of all those with those books, just to steal them, kill those who read them (most of the time), and re-write them back into "The Manual".[/color]

[color=black]The Midday Men were good people, but carried on merely to fulfill their desire to create, though they knew the horrible game they were apart of. Yet, they were helpless to do anything about it. The Midnight Men far out-numbered the Midday Men. There was a tragic image in my dream where a group of elderly Midday Men, past their creative prime, unofficially dubbed "Twilight Men" (the "twilight of their careers/lives", bla bla bla), were all executed by means of a firing squad. And so The Greaters would arrange for more creative individuals to be plucked from society, and turn them into a Midday Man.[/color]

[color=black]The Midnight Men were more or less gruntworkers. Since The Greaters were never seen, the connection was through the Agnanimous Group. They were the liasons between The Greaters and the Midnight Men, and completely orchestrated the revisions of "The Manual", the creations of the creative books, and all the breaking into of homes. But one man of the Agninamous Group, of Midnight Men blood, but of Midday Men mind, came into power. He never said anything about his true thoughts, but he was appalled at the state of society he witnessed, and the treatment of humans and their lack of liberties. My dream likened him to Jesus, but that was more to convey the hope he represented. Nobody knew his power but him. As a member of this Group, he could foil the corruption from the inside, and shatter the creative cages of The Lessers.[/color]

[color=black]The course of my dream was watching the Midnight Men make their nightly raids, watching the Midday Men solemnly make their books, witness an execution, and remember the image of the one man of the Agnanimous Group, the shock on his face when he first came to power, and I actually felt what he was planning on doing. I read his mind, and knew exactly the intent of his being. He was going to change everything.[/color]

THE END

...


[color=black]Now [i]that[/i] is Rando encapsulated in wordery.[/color]


[color=black]Hmm.[/color]


[color=black]There's more to say (imagine that), but instead I'll leave it at this:[/color]




[color=black]...[/color]



[color=black];)[/color]
Neum Daddy
Super Reviewer
A face-off between two Chicago prohibition mobsters at its core, the movie is soaked to the brim with the suave and verve of the sixties and the unforgettable rat pack. Excpect off-the-wall and someimes quite explicit one-liners when Dino & Co let their charm ooze of the screen. While some musical numbers feel very much pushed into place, as soon as the boys start singing in duets or triplets, old school magic happens and it is a delight to see numbers featuring Frank, Dean & Bing performing together. Peter Falk shows why he is severely underrated, especially when it comes to campy comedy. The female actrors make for a nice decoration, I guess that fits a movie by the Boys Club that was the late Rat Pack.
Discussion Forum
Discuss Robin and the Seven Hoods on our Movie forum!
News & Features