RoboCop 3
(1993)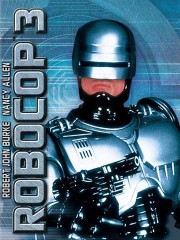 RoboCop 3 Trailers & Photos
Movie Info
In this second sequel to RoboCop, the mechanical humanoid opposes the evil designs of his creators, who have gone corrupt and are trying to take over all real estate in Detroit, kicking the poorer citizens out of their homes and turning them out into the streets.
more
Cast
News & Interviews for RoboCop 3
Critic Reviews for RoboCop 3
Audience Reviews for RoboCop 3
½
Considering that the original Robocop is an action classic, you'd think that the filmmakers would try to deliver something even more exhilarating. The second feature was a decent affair, but it lacked what the first one had. With this third entry, the filmmakers opted for a more teenage friendly action film that was meant for a much younger audience than the original. The film's biggest flaw is the absence of Peter Weller, who passed on this film. Another problem is that the film has a laughable script with a few decent, underdeveloped ideas that just ends up falling flat. Throughout the film there are some entertaining scenes, but they quickly become ridiculous. I thought that the film had a few interesting ideas, but what it lacked was a truly engaging script and good cast. This film had the potential of being a great final outing; however the material is mostly flat and laughable. The fact that the movie was rated PG-13 makes this entry fall short of what it could have been. Since this is aimed for a younger audience, this entry lacks the thrills established in the original and the plot suffers significantly due to a lack of real satire that was seen in the original and the gross out violence. The idea of having OCP taking over Detroit in this entry was good, but it's a shame that the script is sloppily written due to the fact that the filmmakers simply didn't care about making an adult oriented Robocop film. If the movie would have been taken more seriously, I think that this one would have been great. Unfortunately this is a lazy effort that is a disappointment and it just doesn't cut it in terms of great action and thrills. As a whole, Robocop 3 plays out like a cheaply made B movie that just misses the mark.
½
Loved the first one, the second one was okay, but this one is ehhhh.
RoboCop 3 Quotes
McDaggett: How can I help you officer?
Robocop/Alex J. Murphy: By resisting arrest.
Anne Lewis: Are they gone?
Robocop/Alex J. Murphy: I'm still scanning three. [catches a bullet in his hand and fires his gun offscreen] Make that...two.
Discussion Forum
Discuss RoboCop 3 on our Movie forum!
News & Features