Room
(2015)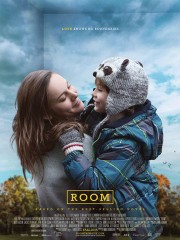 TOMATOMETER
AUDIENCE SCORE
Critic Consensus: Led by incredible work from Brie Larson and Jacob Tremblay, Room makes for an unforgettably harrowing -- and undeniably rewarding -- experience.
Room Trailers & Photos
Movie Info
Both highly suspenseful and deeply emotional, ROOM is a unique and touching exploration of the boundless love between a mother and her child. After 5-year-old Jack (Jacob Tremblay) and his Ma (Brie Larson) escape from the enclosed surroundings that Jack has known his entire life, the boy makes a thrilling discovery: the outside world. As he experiences all the joy, excitement, and fear that this new adventure brings, he holds tight to the one thing that matters most of all--his special bond with his loving and devoted Ma.
more
| | |
| --- | --- |
| Rating: | R (for language) |
| Genre: | Drama |
| Directed By: | Lenny Abrahamson |
| Written By: | Emma Donoghue |
| In Theaters: | Oct 16, 2015 Limited |
| On DVD: | Mar 1, 2016 |
| Box Office: | $14.7M |
| Runtime: | |
Cast
News & Interviews for Room
Critic Reviews for Room
Audience Reviews for Room
Boasting exemplary performances by the entire cast, Room is simply the best movie ever about the complex and loving relationship between a mother and her son, but particularly while that relationship is in dangerous straits. Best. Ever. As well there's also a quick nod to the relationship between a mother and her own mother worth noting. Not simply quality filmmaking, but my pick for Best Picture of this year.
Brie Larson and Jacob Tremblay really carry this movie as mother and son who are imprisoned in a garden shed for seven (and five) years (respectively). Joy's days are spent creating as normal of a childhood as she can for her son Jack - full of daydreams and exercise and crafts - so that at night when Old Nick comes for his conjugal visit, Jack would never think that hiding in the wardrobe is out of the ordinary. Now that he has turned five years old, Joy deems him old enough to learn the truth and plan their escape.

And what a riveting escape it is. I've laughed at movies, cried at movies, jumped out of my seat and yelped at movies, but never has my heart raced so fast at a movie as when Jack struggles to disentangle himself from the carpet and scrabbles out of this moving, rumbling behemoth into a loud, populated, alien world he has never seen, much less imagined before.

Nine-year-old Jacob Tremblay is so utterly natural as Jack, expressing shades of joy, anger, amusement, disgust, doubt, fear, and working that raggedy mop of hair to boot. My favorite moment is when Joy makes Jack repeatedly practice unrolling from the rug, and a disheveled, out-of-breath Jack tumbles out and spouts, "I hate you!" There is such power in his vehemence. Brie Larson is pretty dang good, infusing this young abuse victim with motherly patience and motherly ferocity, but I suppose she was good in an expected way. I expected a performance of this character to be this way, so I didn't see any surprising distinctions. In fact, the post-Room scenes with the reporter or fighting with her mom seem a bit inorganic, both in script and acting. There isn't enough nuance about Joy's PTSD; all the dialogue is too on-the-nose, so both Larson and Joan Allen end up just yelling in one note.

There are some weird must-happens in the story, of course. Old Nick must either be "kind" or dumb enough to not abuse his child begat from abuse, to not look inside the rug to confirm his child's death, to not wrestle his child back into the truck after his escape attempt, to not go home right away to punish his prisoner-wife. I mean, the audience probably wouldn't be able to handle more atrocity, but I wanted at least some background on what kind of abuser he is and what happens to him after the news broke. I know it's not his story, nor would a real life person like him deserve more consideration, but for a fictional character, he needs some grounding traits. What would compel the reporter to ask Joy why she didn't just have Old Nick take baby Jack to a hospital so that he may have a normal life? That would take an inordinate amount of trust in the abuser. And what if the rug were placed so that it would roll INTO the truckbed wall? And wouldn't Joy's friends have been affected by her disappearance and be interested/happy to know that she made it out alive?
Room Quotes
Jack: I sometimes missed it.
Jack: Do you have a real dog?
Joy "Ma" Newsome: He'll never find us.
Jack: I want a different story!
Ma: No, this is the story that you get!
Ma: One evening as the sun went down and the jungle fires were burning, down the track came a hobo hiking, and he said, boys, I'm not turning; I'm headed for a land that's far away beside the crystal fountains so come with me, we'll go and see The Big Rock Candy Mountains. In the Big Rock Candy Mountains, there's a land that's fair and bright...
Discussion Forum
Discuss Room on our Movie forum!
News & Features