See You In You Tube
(2008)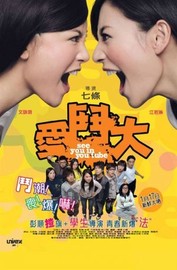 AUDIENCE SCORE
Critic Consensus: No consensus yet.
Tickets & Showtimes
News & Interviews for See You In You Tube
Critic Reviews for See You In You Tube
There are no critic reviews yet for See You In You Tube. Keep checking Rotten Tomatoes for updates!
Audience Reviews for See You In You Tube
A movie that starts out with a strong premise just rapidly deteriorates into nothingness... The concept of 7 different filmmakers tackling this project was a lofty one, and the plot loosely stays together for the most part. The plot holes though sort of ruin things - like why all of these "film students" would participate in the Fear Factor-like challenges in the first place just to win some imaginary contest between the girls. That and of course the ending which just seems to mess up any consistent plot as all is finally revealed about why the guys are trying to raise money - another groaner plot twist. Not a bad waste of time but their are plenty of other good movies out there to see.
See You In Youtube was put together by 7 film students from around Hong Kong. The result is a plot that, honestly, belongs in Youtube.

A group of 10 students are split in two teams and they have to challenge each other in crazy challenges, such as "get food from someone's plate" or "sing a song at a funeral". Most of the challenge footage, though, looks suspiciously authentic, which only helps the film.

The overall camerawork will piss you off at first (almost all hand-held), but as you go on and the directors' intent becomes more apparent, you mind it less.

There is a thin romantic plot, made to drive the movie along, but it is easily ignored. There are also romantic sub-plots between the minor characters that go nowhere. The only thing carrying the film are the team challenges. Also, it seems to go the Korean route later on, turning into straight-up drama... or does it?

Ah, it's worth a watch.
Bancho Libre
Discussion Forum
Discuss See You In You Tube on our Movie forum!
News & Features