Shaolin
(2011)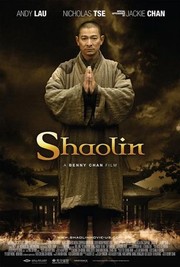 Shaolin Trailers & Photos
Movie Info
As feuding warlords fight to expand their power, the noble monks of the Shaolin Temple clean up the mess left behind, tending to the injured while trying their best to protect the poor and weak. General Hou (Andy Lau) has caused much of this mess with his violent and ruthless tactics that rarely discriminate between soldiers and civilians. When Hou is betrayed by fellow general Cao Man (Nicholas Tse), he is forced into hiding, and takes refuge with the monks (including Jackie Chan) at their hidden mountain temple. As the days pass, he finds himself more and more at ease as he learns the ways of peace, and begins to release his hatred through Martial Zen. But Cao is not far behind, and war soon reaches the temple, where the monks are ready to fight back with their unstoppable Shaolin Kung Fu. -- (C) Reliance
more
Cast
News & Interviews for Shaolin
Critic Reviews for Shaolin
Audience Reviews for Shaolin
Really good film. Lots of great choreography. Jackie Chan shows up in this, and he adds alot of humor. The only thing that took away from the movie was the foreign troops that show up to cause conflict...the lead soldier was a horrible actor. But that is such a small section, and it doesn't take away from this film. Good all around movie.
the film had some excellent moments. the story was predictable but still engaging, some of the action was solid, and the film looked great. however there was so much about this film that disappointed. some of the action was silly, and the end of the film fell flat at so many moments. i was looking forward to this film with much anticipation, but in the end, it was just a tad above average.
Shaolin Quotes
General Hou Jie: Life is about affinity. Follow affinity and live freely.
Cook: [Shaolin Kids shouting to to Cook while he's taking on Cao Man's crooked soldiers] Stir fry them like vegetables. Knead them like noodle dough!
The Abbot: From evil comes suffering. With justice they are gone. If neither are there you're so purified, nothing remains. Understand how to let go first, then you will have no attachments. Do this, and you can confront anything.
General Hou Jie: Namo Amituofo.
Discussion Forum
Discuss Shaolin on our Movie forum!
News & Features