Since You Went Away
(1944)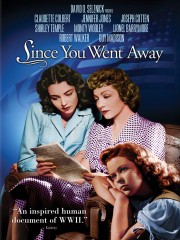 Tickets & Showtimes
Since You Went Away Trailers & Photos
Movie Info
David O. Selznick's first production since 1940's Rebecca, Since You Went Away, based on Margaret Buell Wilder's bestselling novel, is a long but rewarding paean to the World War 2 "home front". Claudette Colbert plays the wife of a businessman who, though well past draft age, volunteered to serve his country as an officer (though the husband is never seen, he is "played"-via a photograph-by Neil Hamilton). Fighting back her own fears and anxieties, Colbert does her best to maintain a normal, stable household for the sake of her growing daughters Jennifer Jones and Shirley Temple. She is offered moral support by cynical-but-kindly boarder Monty Woolley, by maid Hattie McDaniel (who willing foregoes her salary "for the duration") and by Navy man and friend-of-the-family Joseph Cotten, whose relationship with Claudette remains staunchly platonic. The harsh realities of war hit home several times throughout the film, first when it seems as though Colbert's husband is missing in action, and later when Jennifer's young boyfriend, GI Robert Walker, is killed in combat. From the vantage point of the 1990s, it is easy to see why Since You Went Away scored with its wartime audiences. Though the leading characters are slightly more financially secure than most of the moviegoers of 1944, the various vignettes presented throughout-complaints about rationing and priorities, shoulder-to-shoulder sacrifices, the weekly escape to the local movie house, tender partings, joyous reunions, the returning wounded, the dreaded wire from the war department-all had the ring of truth and topicality. Even today, the film's emotional highlights, particularly the much-imitated farewell scene at the railroad station, are sufficient to bring tears to the eyes of the most jaded viewer. Enhancing the film's heartstring tugging tenfold is Max Steiner's Oscar-winning musical score. If you can remain objective while watching Since You Went Away (it isn't easy), see if you can spot Ruth Roman, Guy Madison and John Derek, making their screen debuts in microscopic roles
more
Cast
News & Interviews for Since You Went Away
Critic Reviews for Since You Went Away
Audience Reviews for Since You Went Away
½
Nice 40's drama reflecting the "war at home" during the height of WWII. Superb performances from Claudette Colbert and Lionel Barrymore. The knock on this one is it's length (three hours!) and it's occasionally forced sentimentality.
Randy Tippy
Super Reviewer
long and at times a little heavy on the corn but also very touching with beautiful cinematography and fine performances.
Discussion Forum
Discuss Since You Went Away on our Movie forum!
News & Features