Six Reasons Why
(2008)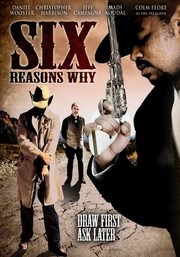 AUDIENCE SCORE
Critic Consensus: No consensus yet.
Six Reasons Why Trailers & Photos
Movie Info
In a future where society has come full circle and man lives by the code of the cowboy, a fugitive, a vengeful son, a killer, and a shifty servant stand in a four-way face-off from which only one man can walk away. To the east lies seven boomtowns connected by railroad, and to the west is a Utopian community that cowers in fear of the outside world. Dividing these two areas is an arid stretch of desert known only as "The Badlands." Few who go into the Badlands are ever seen again, and when "The Nomad" is cast out from his hometown in the west he vows never to let a living soul reach Utopia. For twelve long years "The Nomad" has wandered the desert plotting a path back home, and he's taking his trusty horse with him. But before "The Nomad" gets home he'll have to contend with "The Entrepreneur." "The Entrepreneur" is the son of the wealthiest man in the east - a recently murdered railroad baron. He's out to avenge his father's death and take over that lucrative Railroad Empire by force, but he doesn't realize that his trusted servant has recently stricken a deal with "The Criminal" a serpentine killer who stole "The Nomad's" horse and killed "The Entreprenuer's" father. Now, these four gunmen stand facing one another with their fingers on their triggers, their fates won't be known until the gun smoke clears. ~ Jason Buchanan, Rovi
more
Cast
News & Interviews for Six Reasons Why
Critic Reviews for Six Reasons Why
There are no critic reviews yet for Six Reasons Why. Keep checking Rotten Tomatoes for updates!
Audience Reviews for Six Reasons Why
This movie is so bad because it wasted so much potential.

Positives: It has great convincing actors (especially for no-names), it has a great intertwined storyline that ties all of the people together, it has a powerful ending that no one would ever expect, and it has a great soundtrack.

Negatives: The movie has so much going for it yet it lets it all dwindle down to nothing with long pointless scenes - many of which have no point in being in the movie, others that are drawn out for minutes on minutes without anything said, in all honesty it makes for a real boring movie. I am not the type to fall asleep in a movie but I nearly did in this one 2-3 times. The writers were super creative with an intertwined storyline yet the overall plot of "banished" and "protector" is a bit ignorant. Why waste your time on something so silly when you have the ability to write as you have shown through out the movie? It seemed like a waste of talent and money too me. The background on the characters before the movie is very very slim, in which near the end you'll understand that was done on purpose, but they still could of given us some more background so we could care a bit more about the characters - while watching this you'll feel like you dont give a crap who gets capped next, there's no personal emotional ties with this one.

Overall: It earns a one star for it's much potential but that's all because it waste it all on nothing. I am a major fan of westerns and if you are too, you may get slight enjoyment out of this one, if your not you'll hate it 100%. Some of you will simply watch this as I did and just feel like movies like these are the cause of the western genre dieing out. This movie should of been kept on the shelf, rewritten, and released with more money and more effort.
[font=Times New Roman][size=4][color=#000000]2008 US Director: Matt & Jeff Campagna[/color][/size][/font]

[font=Times New Roman][size=4][color=#000000]Score: 6[/color][/size][/font]

[color=#000000][font=Times New Roman][size=4] I think this one intrigued me enough to recommend it mostly because it was something a little different. For a low budget, independent release it didn?t have many of the problems that often plague those types of projects. The pacing, editing, and production values were not bad at all. The SFX were not super, but they were done well enough. I?d compare them to the level you?d see on many TV shows lately. The acting wasn?t too bad either. There was a little cheese here and there, but not a whole film full of it.[/size][/font][/color]

[color=#000000][font=Times New Roman][size=4] The music didn?t detract from the movie at all, but then it also didn?t stand out in any real memorable way. The plot was interestingly unique. A spaghetti western wrapped into a science fiction backdrop is the best I can do to describe it. Not quite at the level of say, Joss Whedon, but leaning that direction. Part of what kept me watching the movie when the acting turned a bit hammy was that I wanted to see if we learned more about this rather interesting world these characters were on. The film lost a point when we reached the end and had not really been given a good resolution in regards to parts of the plot and certain aspects of life on this planet.[/size][/font][/color]

[font=Times New Roman][size=4][color=#000000] [/color][/size][/font]

[font='Times New Roman'][size=4][color=#000000]Notes: HV-HL-SA Suggested Age: 10+[/color][/size][/font]
Todd S
Discussion Forum
Discuss Six Reasons Why on our Movie forum!
News & Features