Slam
(1998)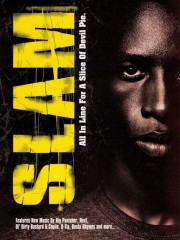 Tickets & Showtimes
Slam Trailers & Photos
Movie Info
SLAM centers on Raymond Joshua, a gifted rapper/poet in Washington D.C. who is arrested on a petty drug charge and is swallowed up by the capital's criminal justice system. In prison, he meets Lauren Bell, a beautiful writing teacher who recognizes Raymond's unique talents and inspires him to use his unique power of creative expression.
more
Cast
News & Interviews for Slam
Critic Reviews for Slam
All Critics (40) | Top Critics (16) | Fresh (13) | Rotten (8) | DVD (3)
Part gritty prison drama, part inner-city chronicle, the energetic Slam defies easy categorization, serving as a compelling plea for black males of how to survive in oppressive society. The film won the 1998 Sundance Jury Award for Best Drama.

Globe and Mail
Top Critic
Chicago Sun-Times
Top Critic
San Francisco Chronicle
Top Critic
Audience Reviews for Slam
Mister Caple
Super Reviewer
½
The fiction element of the film, instead of driving Levin to deeper truths, delivers him toward triteness and manipulation.
How can you use your passion for good? Ray Joshua, the main character in the adequate movie "Slam", played by Saul Williams, uses his passion of poetry in ways where he does not only benefit himself, but he also reaches out to other people. Ray Joshua lives in the tough streets and sold weed to keep his self alive and surviving. One day while he was trying to make a play, his dealer gets shot unexpectedly. From everyone else's point of view it looks like Ray Joshua was the one who shot him. When Ray tries to run, the police catch up and send him to do time. While in prison Ray learns a few things about himself, including how he can use poetry to stop violence.
The movie suggests that everyone should use their talents for good. They shouldn't let everything around them define them. Ray Joshua was surrounded by violence, and drugs all the time because he was a drug dealer himself. He didn't define himself as a criminal; he defined himself as a man from the streets who sells drugs to survive. During the movie Ray says that he shouldn't be locked up just for selling drugs. "There are people who are doing things way worse who should be locked up!" He suggest that the police are wasting their time trying to get Ray locked up.
My favorite part of the movie was the prison scene where Ray Joshua is lonely, and two rival gangs approach each other about to fight and Ray uses his poetry to calm them down and stop. I feel like I can relate to Ray personally because I also write poetry like he does. I use it for something just more than entertainment. I would recommend this movie to anybody and everybody. It is a good and interesting movie from the beginning to end.
Bob De-Smith
Discussion Forum
Discuss Slam on our Movie forum!
News & Features