Snakes on a Plane
(2006)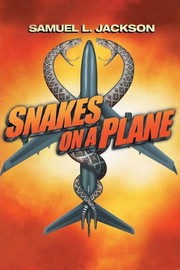 TOMATOMETER
AUDIENCE SCORE
Critic Consensus: Snakes on a Plane lives up to its title, featuring snakes on a plane. It isn't perfect, but then again, it doesn't need to be.
Snakes on a Plane Trailers & Photos
Movie Info
Forget terrorists or hijackers -- there's a handful of deadly assassins aboard a jet liner and they don't even have arms or legs in this airborne thriller. Neville Flynn (Samuel L. Jackson) is an FBI agent handling what seems like a routine assignment -- serving as bodyguard for Sean Jones (Nathan Phillips), a Hawaiian surfer dude who is flying to California to testify in a high-profile criminal trial after witnessing mobster Eddie Kim (Byron Lawson) murdering one of his underlings. However, Flynn's job gets a lot more challenging when he discovers Kim's associates don't want Jones to talk, and have devised a unique way to ensure his silence. A cache of highly dangerous poisonous snakes has been hidden on board the jet, and is released using a timed mechanism once the flight is well underway. The snakes quickly attack several members of the flight crew and are eagerly eying the passengers when Flynn decides its time to get medieval on the reptiles. Also starring Rachel Blanchard, Benjamin McKenzie, and Mark Houghton, Snakes on a Plane was produced under the title of Pacific Air Flight 121, but in several interviews Samuel L. Jackson expressed his enthusiasm for the script's original title, Snakes on a Plane, and the high-concept moniker quickly made the film's title and theme a favorite with bloggers and on Internet fan sites all over the world. ~ Mark Deming, Rovi
more
Cast
News & Interviews for Snakes on a Plane
Critic Reviews for Snakes on a Plane
Audience Reviews for Snakes on a Plane
½
I love this film. It's a modern 'B-Film'. if films were still presented in double features this would be lower film but I have a strong belief that most B-Movies are way better than their feature. This film came in at the right time, it helped to bring Samuel L. Jackson back into the fame he diserved by giving an amazing performance and another actor who really shined was Kenan Thompson. Before this film, to me, he was just the Good Burger employee in Kenan & Kel and a minor player in SNL. This film really put him on the map. There are other really good performances but let me just say, 'dont take this film too seriously'. This film, or at lease I feel, gives a sence of owning to it's cheesy title but not too cheesy to be a parody film. Far from a perfect film, but a pretty fun way to spend 106 minutes.
I cannot stress to anyone reading this review how hard it is for me to see why people didn't like this movie. Everyone I know loathes it! It's good ok. Simply because you get what you went to the cinema or popped the disc into your dvd player for. Snakes on a Plane. It makes good use of its budget and large cast of characters. My ONLY! criticism is that there isn't much development for the characters and that might have made this film a critically acclaimed success rather than a (less than deserved!) mixed to favourable review. Unfortunately, it's unlikely that would have ever happened. Because the show would always be taken by the snakes. The reason watch the film in the first place.
Directors Cat
Super Reviewer
Snakes on a Plane Quotes
Neville Flynn: I have had it with these motherfucking snake on this motherfucking plane!!!!
Troy: This Troy wait here! Next to me is my man Neville. He's my brother from anouther mother..
Neville Flynn: You are talking to the only man with flight experience.
Neville Flynn: I've had it with these mothafuckin' snakes, on this mothafuckin' plane! Everybody strap in, I'm about to open some fuckin' windows!
Discussion Forum
Discuss Snakes on a Plane on our Movie forum!
News & Features