The Song of Bernadette
(1943)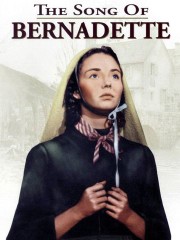 Tickets & Showtimes
The Song of Bernadette Trailers & Photos
Movie Info
The Song of Bernadette is a reverent recounting of the life of St. Bernadette of Lourdes. As a teen-aged peasant girl growing up in the tiny French village of Lourdes in the 19th century, Bernadette (Jennifer Jones) experiences a vision of the Virgin Mary in a nearby grotto. At least, she believes that she did. The religious and political "experts" of the region cannot accept the word of a silly little girl, and do their best to get her to renounce her claims. Bernadette's vision becomes a political hot potato for many years, with the authorities alternately permitting and denying the true believers' access to the grotto. No matter what the higher-ups may think of Bernadette, there is little denying that the springs of Lourdes hold some sort of recuperative powers for the sick and lame. Eventually, Bernadette dies, never faltering in her conviction that she saw the Blessed Virgin; years later, she is canonized as a saint, and the Grotto of Lourdes remains standing as a permanent shrine. The 20th Century-Fox people knew that The Song of Bernadette would whip up controversy from both the religious and the agnostic. The company took some of the "curse" off the project with a now-famous opening title: "To those who believe in God, no explanation is necessary. To those who do not believe in God, no explanation is possible." Jennifer Jones's performance in The Song of Bernadette won her the Best Actress Oscar. ~ Hal Erickson, Rovi
more
Twentieth Century Fox Home Entertainment
Cast
News & Interviews for The Song of Bernadette
Critic Reviews for The Song of Bernadette
Audience Reviews for The Song of Bernadette
years ago, local television in chicago, a town heavy with catholics, made a big deal out of a film representation of the miracle at lourdes, france, something i had never heard of or knew about. the lead actress demonstrated through the story the power of simple faith...and i learned from that performance, i learned about the power of art to transform lives. and the lead actress, in the meager performance of her duties, lead that class in my book. she died today, 12-17-2009, Jennifer Jones, and i never got the chance to personally thank her.
thank you, Jennifer.
The Song of Bernadette Quotes
Bernarde Casterot: She SEES this lady. No one else does. Who are you to say that she is wrong and you are right? She may well be a heavenly creature... You will go with her! All the women of the family must stand by her side. I'll come. And when I walk with her... let anyone dare to laugh!
Discussion Forum
Discuss The Song of Bernadette on our Movie forum!
News & Features