Spiders
(2013)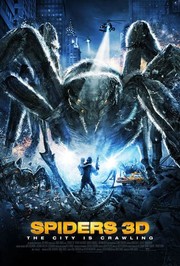 Tickets & Showtimes
Spiders Trailers & Photos
Movie Info
SPIDERS centers on mutant spiders that fall to earth from a disabled Soviet space station. With New York City threatened to be overrun, it's up to transit supervisor Jason Cole and health inspector Rachel Cole to save their daughter and prevent the colossal Queen Spider from uniting with her eggs and creating an army of massive killer spiders. (c) Millennium Entertainment
more
Cast
News & Interviews for Spiders
Critic Reviews for Spiders
Audience Reviews for Spiders
I originally had intention of seeing Warm Bodies in theaters but apparently the movie theater I went too didn't have that. Also seeing how every other movie had already begun I chose to see Spiders in 3D! I wasn't expecting much from something called Spiders nor anything high caliber that required me to wear 3D glasses, but I didn't get cheesy giant spider action that I paid for.

Spiders is about a Soviet satellite crashing in New York that just happened to carry an alien spider. This alien spider soon becomes the interest of an American military general who plans to use the queen to create an army of "super bullet proof spiders", but our main focus is on two bland divorce couple trying to save their daughter. The movie main problem is seeing a divorce couple running away from the government because of a poorly explained reason. The giant spiders are simply a subplot which does make you question why it was called Spiders. A more accurate titled would have been "Bland Divorce Couple Looking For Bland Daughter". The main characters are one dimensional and the suppose human villains are generic. This concept lacks creativity and takes itself too seriously. One noticeable issue about this movie is that it forces us to feel sad for characters we don't even learn anything about or are on screen for one scene. It also just ends without a resolution or hint about the divorce couple possibly getting back together. The humans in this monster flick are boring and uninteresting which hurts the movie drastically seeing how they take up 3.5/4 of screen time.

Now time to talk about the giant spiders which barely appear on screen. Considering this is a low budget monster flick that couldn't afford a single real spider and for some reason most of the rats are CG too, the special effects are cheesy at best. The giant spiders on screen appearances for the most part are underwhelming, but they get to wreck little havoc is when it becomes somewhat fun. The giants spiders do get to kill people, but that's rarely ever shown. Even the queen alien spider who's the size of a sky-crapper is lame on screen. The queen spider runs away from the soldiers rarely hitting her and for some reason doesn't think about eating them. Also the queen doesn't cause a whole lot of destruction as the Helicopter pilots do more harm than actual good. Even the climax is disappointing as a divorce father with no weapons takes out the queen and somehow that kills the other babies without explanation. Huh, kinda like The Avenger and the aliens, except a whole allot less enjoyment. The acting is below average; especially from Patrick Muldoon who takes the news of being divorce rather well and even seemed disinterest even when fighting a giant spider. Almost forgot the 3D which wasn't even used in a single scene. I honestly can't recall a single moment where 3D was actually in use in any conceivable way.

Spiders lacks spiders and instead is infested with boring humans. Low budget aside, the acting is poor, the effects are cheesy, takes itself too seriously, and the lack enjoyment of hardly seeing any giant spiders. Finally the absent of any 3D usage is simply a scammed for higher ticket prices.
Caesar Mendez
Super Reviewer
A cool sci fi film paying homage to 50's big bug films like
Them" Good special effects and story. I wish critics would rate films up against other films in their category instead of putting them up against "Forrest Gump" or "The Godfather" I really loved this entertaining film!
ken karlson
Discussion Forum
Discuss Spiders on our Movie forum!
News & Features