Spork
(2011)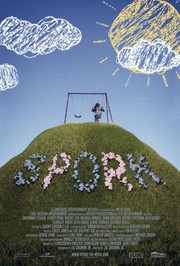 Spork Trailers & Photos
Movie Info
In this offbeat independent comedy, Spork (Savannah Stehlin) is an awkward junior high student with bad skin and worse hair. Spork has one other thing that causes her grief -- a penis. Though she lives as a girl, Spork is a hermaphrodite (hence her nickname -- "not a spoon, not a fork"), and her sexual ambiguity makes her the target of constant bullying by overwrought mean girl Becky Byotch (Rachel G. Fox) and her clique of harpies in training. Things are not much better at home, where orphaned Spork lives with her slobby brother, Spit (Rodney Eastman), and his sedentary girlfriend, Felicia (Elaine Hendrix). Things start to look up for Spork when she makes friends with the highly attitudinal Tootsie Roll (Sydney Park), who embraces her as a fellow outcast in a school of obnoxious conformists, and with the help of Tootsie Roll, overweight Asian Chunk (Kevin Chung) and cheerful Justin Timberlake fan Charlie (Michael William Arnold), Spork learns how to dance and decides to show off her new moves at the school talent show. Spork was the first feature film from actor-turned-writer/director J.B. Ghuman Jr. ~ Mark Deming, Rovi
more
Cast
News & Interviews for Spork
Critic Reviews for Spork
Audience Reviews for Spork
A quirky, imaginative and outrageous little movie that will speak to more of us than any of us would like to admit.
there's a transparency about it that's expected to lift but never does. it's fucking weird, but mostly familiarly and tiresomely so. it's progressive, but in the bare minimal, don't-say-gay/reverse-racism-exists kinda way. you hope for some gesture of subversion in the embrace of decades-old tropes, but it never comes. very possibly over my head, but more likely just trying too hard to be something it's not.
Spork Quotes
Spit: Are you pregnant, Spork?
Spork: No, Spit.
Spit: Did you get someone pregnant, Spork?
Spork: No, Spit.
Discussion Forum
Discuss Spork on our Movie forum!
News & Features