Strangers When We Meet
(1960)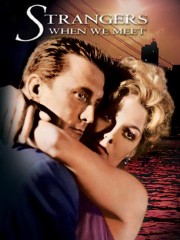 AUDIENCE SCORE
Critic Consensus: No consensus yet.
Tickets & Showtimes
Movie Info
Featuring an all-star cast and excellent production values, this sudsy melodrama centers upon the tangled webs woven by a philandering architect and his mistress, who is also his next door neighbor.
more
Cast
News & Interviews for Strangers When We Meet
Critic Reviews for Strangers When We Meet
Audience Reviews for Strangers When We Meet
Kim Novak, at the height of her beauty, gives a fine performance full of submerged insecurity. She's fragile and bruised longing to be loved. She was always a spotty actress but when the material suited her she could really deliver. The rest of the cast is fine but overshadowed by her. Nice art design and beautiful color photography.
½
the paradox within the cultural temperament of 1960s america is the juxtaposition of sexual liberation (free love among the youth) and the height of bourgeois suburban dream, the co-existence of radical activism and the conservative reactionary. thus "strangers when we meet" is the mediocre lukewarm product moulded by such social atmosphere. on the one hand, it encourages emancipation for married woman to re-vitalize her confidence meanwhile it also dubs moralistic pedogogy that marriage is a commitment which should not be nullfied.

kim novak plays a housewife with a wooden un-passionate husand who demands her to put her clothes on in order to appear decent in their own house (come on, your wife is kim novak, wouldn't you supposedly be more passionate to such voluptuous woman?) thus she finds herself suffocated in a lifeless marriage, and she seeks solace from her neighbor, who happens also to be married, who also finds his wife quite insensitive to his passions of life, frustrated by the lack of mental connections and spiritua)l communications. in one scene, novak without bra, in a scarlett (flesh-red dress requests the man to kiss in a hissing exclamation as if she's sensually requesting for orgasm as you could clearly see the tempting shape of her naked bossom.

the ending is that the woman just bids farewell to the man graciously without making a fuss about his sudden decision to depart and leave her in a loveless marriage. it's like saying: we have had a great fun together, and eventually i will return home to be a good little wife and you could easily take off. ok, perhaps i ideologize everything, it feels like a patronization of hugh hefner-esque chauvinism. yes, free love is only doable under the premise that woman is the man's plaything without any actual romantic consequence. (and woman, you're on your own, since i'm gonna help you.)

BUT, how could you do except just letting him go? strangers when we meet, still strangers after you put your pants back on! quite a roller-coaster ride of free love without paying the ticket fair, isn't it?
Gustave Kwak
Discussion Forum
Discuss Strangers When We Meet on our Movie forum!
News & Features