Les égarés (Strayed)
(2003)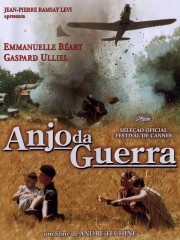 Les égarés (Strayed) Trailers & Photos
Movie Info
Uma jovem viúva de Paris foge dos Nazistas com suas crianças e encontra abrigo na floresta com a ajuda de um garoto. Emmanuelle Beart, Gaspard Ulliel, Gregoire Leprince-Ringuet, Clemence Meyer. Dirigido por Andre Techine.
more
Cast
News & Interviews for Les égarés (Strayed)
Critic Reviews for Les égarés (Strayed)
Audience Reviews for Les égarés (Strayed)
[font=Century Gothic]"Strayed" starts out on June 10, 1940. Odile(Emmanuelle Beart) is a young mother fleeing Paris with her 13-year old son and 6-year old daughter. They are part of a long, slow procession of refugees heading south when it is suddenly attacked by German planes, strafing and bombing them. The family survives the attack and makes their way from the convoy cross country with the help of a myserious 17-year old named Yvan(Gaspard Ulliel)who has some very handy survival skills. Eventually, they stumble across an abandoned chateau.[/font]
[font=Century Gothic][/font]
[font=Century Gothic]"Strayed" is a beautifully shot film about being civilized just as everything else is falling apart.("The Time of the Wolf", released about the same time, covered similar territory.) For example, Odile tries desperately to retain the sense of normalcy that her family provides. But after a great start, the movie alsmost comes to a halt when they get settled in at the chateau. And Emmanuelle Beart is good as always.[/font]
½
Once the end credits roll, you may think to yourself that Les Egarés doesn't add up to much. Or you may see it like me and find a lot of value in those little pieces. The film follows a mother and her son & daughter fleeing from Paris in June 1940 as the Nazis invade. Soon they encounter a streetwise - or in this case, countrywise - youth who knows more about survival than the three of them combined. They stumble upon an abandoned luxury house far from the German warpath and have serious choices to make about their futures.

I learned a little bit about the hardships of French citizens during the WW II occupation and experienced a little bit of rushing fear as German planes drop their bombs. The 4-way dynamic between the characters forms the core of the film with the varying degrees of experience each person has creating a separate layer to explore: the hopeful yet pragmatic mother, the bluntly realistic loyal son, the quizzical innocent young daughter, and the bold resourceful stranger who is not all he claims to be. Emmanuelle Béart delivers a strong, resolute performance, as does newcomer Gaspard Ulliel. The other child actors also contribute seamlessly, which is vitally important since Béart is the only adult present during most of the film. The ending came rather unexpectedly & reminded me of Cuckoo's Nest without the underlying inspirational message. Nevertheless, with Les Egarés I found the parts greater than the sum.
Doctor Strangeblog
Super Reviewer
Discussion Forum
Discuss Les égarés (Strayed) on our Movie forum!
News & Features