Sugar Cookies
(1973)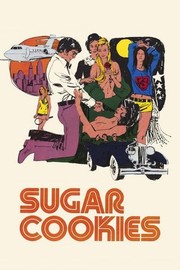 AUDIENCE SCORE
Critic Consensus: No consensus yet.
Sugar Cookies Trailers & Photos
Movie Info
In this erotic chiller, a sadistic pornographer chooses the wrong two women for his latest round of mind games.
more
News & Interviews for Sugar Cookies
Critic Reviews for Sugar Cookies
All Critics (1) | Fresh (1) | Rotten (0)
Entertaining in a B-movie way, offering a steady stream of threatening behavior and spastic seductions to help ease an awkward Vertigo-inspired plot into place.

Audience Reviews for Sugar Cookies
½
I checked this out on Netfux Instant Watch simply because I was curious to see what kind of role Mary Woronov played, which was again the 'sorta hot butchy bi-sexual' type that she seemed cast in numerous times in these low budget features from the 70's.

A pornographer's mind-games basically mind-fuck a model into killing herself, so Woronov seeks revenge by any means necessary. It's watchable if a bit over the top and far-fetched at different turns.

Worth a rental.
½
[b][size=5]Wedding Crashers[/size][/b]
Directed by: David Dobkin
[img]http://nandotimes.nandomedia.com/ips_rich_content/764-weddingadd.jpg[/img]


I'll be the first to admit, this movie had some hysterical moments. I especially liked the scene where Vince Vaughn got 'raped' by his...uhhh....girlfriend?

But the key to making good dumb comedies, is to do one of two things:

A. Make them so absured, so over the top, that it's just about the jokes and the absurdity of it all, i.e Wet Hot American Summer, Harold and Kumar Go To White Castle

B. You blend the humor with genuine emotion. Oh sure, it's bound to be oversentimental and sappy and stuff, but it needs some connection to reality, i.e. Planes, Trains and Automobiles, Sixteen Candles.

This one goes for B, but fails. It gets the jokes, but the sentementality and emotion is SO forced it's bad even for this type of a movie. The dialog when it's trying to create emotion is so bad, it doesn't even work on a manipulative level.

That said, the jokes are pretty funny. I watched this with a bunch of people last night with some popcorn and chips, and we could have done worse, although I wouldn't watch it again.

[i][size=4]4.5[/size][/i]



[size=5][b]Sugar Cookies[/b][/size]
Directed by: Theodore Gershuny

[img]http://images.greencine.com/images/movies/amg/dvd/cov150/drt400/t466/t46674y33g6.jpg[/img]


This is apparently released by the Troma team, but it's quite a bit different, and better, then their 80's stuff. That isn't to say it's good, it's still pretty bad, just not quite bad on the same level.

I saw this for one reason: Lynn Lowry

She's probably best known for being in George Romero's 'The Crazies', but she's been in a few exploitation films, such as 'Score' and this film.

I think she's one of the hottest girls i've ever seen. So yah, that on top of the fact that I get a kick out of bad exploitation films, at least ones prior to 1990, is pretty much why I saw this.

Anyhow, this is a weird sexploitation/murder film about a porn director who kills one of his stars for kicks, and makes it look like a suicide. The star's lesbian lover sets out for revenge, and has a plot that involves finding someone who looks just like her, and...well, nevermind. The plot is rediculous, and really doesn't do much but create excuses for weird, elaborate games and people taking their clothes off.

That doesn't sound so bad, but unfortunately, they have this whole sub plot about the director's ex-brother-in-law (I guess, that's what IMDB said), which is really painfully stupid, even for a film of this sort, and screws everything up.

So yah, it's basically a really bad exploitation version of Vertigo, but with a great, quirkly looking woman in it, and add a really bad subplot.

Here's some pictures of Lynn Lowry:

[img]http://www.lynnlowry.com/images/modeling/model17.jpg[/img] [img]http://www.lynnlowry.com/images/modeling/model15.jpg[/img]

Apparently, she's a Jazz Singer now. Cool. A bit too old for me now (she's about 59), but man, back in the day...

[i][size=4]5.5[/size][/i]
Cliff Smith
Discussion Forum
Discuss Sugar Cookies on our Movie forum!
News & Features