Man of Steel
(2013)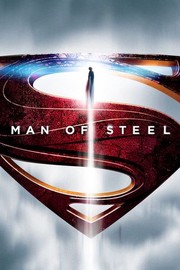 TOMATOMETER
AUDIENCE SCORE
Critic Consensus: Man of Steel's exhilarating action and spectacle can't fully overcome its detours into generic blockbuster territory.
Man of Steel Trailers & Photos
Movie Info
A young boy learns that he has extraordinary powers and is not of this Earth. As a young man, he journeys to discover where he came from and what he was sent here to do. But the hero in him must emerge if he is to save the world from annihilation and become the symbol of hope for all mankind. -- (C) Warner Bros
more
Cast
News & Interviews for Man of Steel
Critic Reviews for Man of Steel
Audience Reviews for Man of Steel
A most difficult proposition here: a story over 50 years old that you want to enjoy but may be inclined not to (you've probably got a favorite already) - they've got to win us over. How to do that, keeping it fresh, while touching on all the familiar-as-your-own-family elements demanded by the never-to-be-denied true believers? The stars deliver, drawing us into a story made fresh by focusing on the inherent immigration aspect of it : like most Americans, Supes comes from someplace else originally and has to decide whether he's American or not. Particularly good are Adams as Lane, Costner and Lane as Pa and Ma Kent, and Traue as one mean b-tch. Crowe and Cavill have the biggest jobs, stepping into the shoes - and yet out of the shadow - of huge cultural icons.
Compared to what 'Superman Returns' offered in 2006, 'Man of Steel' come back with a stronger power to drawn the audiences attention by having a well-named director and incredible cast with a more interesting story too.. Henry Cavill gave a strong performance as Clark Kent with another lovely performance from Amy Adams as Lois Lane, but the star of this movie is no other than Michael Shannon who successfully as before portraying a ruthless villain in the name of General Zod.. Overall, since I haven't watched the original Superman in 1980's, this version is way better than 'Superman Returns' but just good not that great nor amazing..
Sanjaya 丘耀文
Super Reviewer
Man of Steel Quotes
General Zod: Our damnation became our salvation.
Lois Lane: Why are you surrendering to Zod?
Clark Kent/Kal-El: I'm surrendering to mankind, there's a difference.
Lois Lane: And you let them handcuff you?
Clark Kent/Kal-El: Wouldn't be much of a surrender if I ressisted, and if it makes them feel more secure and all the better for it.
Clark Kent/Kal-El: My parents taught me to home my senses, Zod. Focus on just what I wanted to see, without your helmet, you're getting everything. And it hurts, doesn't it?!
Dr. Emil Hamilton: Oh my god, they're terraforming.
Major Carrie Farris: What's that?
Dr. Emil Hamilton: Planetary engineering modifying the Earth's atmosphere and topography.
General Swanwick: Turning Earth into Krypton.
Major Carrie Farris: But what happens to us?
Dr. Emil Hamilton: Based on these readings, there won't be an 'us.'
Discussion Forum
Discuss Man of Steel on our Movie forum!
News & Features