Symbol (Shinboru)
(2009)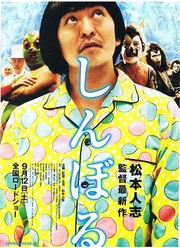 AUDIENCE SCORE
Critic Consensus: No consensus yet.
Movie Info
Big Man Japan writer/director Hitoshi Matsumoto follows up his imaginative feature debut with this surreal tale of a man imprisoned in a massive white room with no windows or doors, and a Mexican wrestler preparing for a pivotal match. Awakening in a sterile colorless box from which there seems to be no escape, the confounded prisoner watches a phallic shape emerge from the wall, and cautiously approaches. Upon pushing the object, he is rewarded with a pink toothbrush. With each attempt to break free, the man is deluged with random items that materialize out of the smooth white walls. In time the room transforms into a strange obstacle course, and the man must figure out how to utilize a toilet plunger, a rope, and a jug of sushi to secure his freedom. Meanwhile, in Mexico, a luchador known as Escargot Man appears unusually stoic while preparing to take on a powerful opponent. What do these two seemingly unrelated stories have in common? The only way to find out for sure is to watch Matsumoto's absurdist comedy, and find out for yourself.
more
Cast
News & Interviews for Symbol (Shinboru)
Critic Reviews for Symbol (Shinboru)
There are no critic reviews yet for Symbol (Shinboru). Keep checking Rotten Tomatoes for updates!
Audience Reviews for Symbol (Shinboru)
Tsubaki Sanjuro
Super Reviewer
Hitoshi Matsumoto's sophomore film Symbol is quite the bizarre picture. The funny thing is, that isn't surprising.It is hard to find a smooth clear story for this 90 minute picture. The first hour goes back and forth between a Mexican wrestler and a man that wakes up in a white room with no windows or doors. No visible ones anyway. The Mexican Wrestler scenes are pretty uneventful and almost seem like fillers to the man in the white room scenes. As for the latter, these scenes are more entertaining. The antics that happen in this white room is Matsumoto's comedy at work and it is quite hilarious. Objects appear out of nowhere thanks to these "switches" all over the room.Up to this point, nothing is clear as to what is exactly going on. The Mexican wrestler and the man in the white room stories do eventually collide and that doesn't make it any better. In fact, the final 30 minutes just gets more mind boggling.Hitoshi Matsumoto casts himself as the man in the white room and he puts on a good performance, despite the fact that his dialgoue is minimal. He does do a lot of screaming and moaning though.Symbol is a film that leaves many thinking; however it is recommended for those that choose to see something DIFFERENT.
½
I'm still not quite sure what it is exactly that I just saw, and there's not much I can say because I don't wan't to give anything away, but it was definitely interesting, very unique, and funny.
Quinto Wallight
Super Reviewer
Discussion Forum
Discuss Symbol (Shinboru) on our Movie forum!
News & Features