Sympathy
(2007)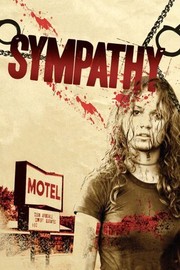 AUDIENCE SCORE
Critic Consensus: No consensus yet.
Movie Info
Classic suspense merges with grindhouse thrills as a desperate bank robber and his rebellious teenage hostage attempt to throw off authorities by laying low in a ramshackle roadside motel. With a mysterious stranger comes knocking on their door, however, a simple plan snowballs into a deadly game of cat and mouse in which no one can be trusted, and nothing is what it appears to be. ~ Jason Buchanan, Rovi
more
Watch it now
Cast

News & Interviews for Sympathy
Critic Reviews for Sympathy
All Critics (3) | Top Critics (1) | Fresh (3) | Rotten (0)
Works as a well-guided female empowerment missile -- few women on film have managed to terrorize two possibly psychotic males while handcuffed to a bed and bleeding to death.

The blend of sound design, score and editing is what made the film as suspenseful as it was. Holding the frame for the perfect amount of time is a science and doing it correctly can make or break the final cut of a film.

Yes, you'll see some of the many twists coming a mile or so away, but there are others that aim to blindside, and do a damn fine job of it.
Audience Reviews for Sympathy
Matt Slash
Super Reviewer
½
With only three actors and shot entirely in one rented room (albeit with more angles than an eight-sided poker player), it was the expert blend of sound design, score and editing that made the film as suspenseful as it was.
I want to start with a disclaimer before we get into things. "Sympathy" is not going to be for all audiences. It is a very low budget movie, and it shows. If you're looking for a glossy Hollywood thriller, with cookie cutter characters, and a nauseatingly happy ending, you're going to want to put this one back on the shelf. If your trousers become a little shorter at the thought of discovering an unnoticed masterpiece amongst the plethora of blah, you might want to pay attention.

"Sympathy," in it's entirety, takes place in one hotel room. After a bank robbery that we're not witnessed to, Trip (played by Steven Pritchard) has taken Sara (played by Marina Shtelen) hostage. Trip cuffs Sara to the bed while he maps out a path to Canada, where he intends to catch a plane. After a quick trip out, trip returns to an unexpected visitor, and so the insanity begins. I have to say, even though it's fairly obvious that the film was made on a near nonexistent budget, I enjoyed the look that they accomplished. Sure, it looks cheap, but it looks grainy, and it manages to feel like the exploitation flicks that it's partially paying homage to.
If you had asked me about the acting fifteen minutes into the movie, I would have told you that it was just so-so. As the movie progresses, you get a sense for what they're aiming for, and the acting makes sense, and by the end, I was actually pretty impressed. For a cast and crew of virtual unknowns, it's quite an achievement. Particularly well in her role, was Marina Stelen as Sara. At first she's annoying, then the character grows on you, and by the end, you're completely sucked in by her performance.

The camera work is nothing short of amazing. Even though they're limited to one hole-in-the-wall hotel room, they manage to capture the madness from every conceivable angle, and more. One particularly appealing technique on display here is the split screen, made famous by the television series 24, only instead of showing you what two separate people are doing at the same time, we're treated with multiple angles of the same scene. Multiple angles of struggling, squirming, and bleeding. It's something that wasn't necessary to advance the story, but serves extremely well at leaving a lasting impression.

"Sympathy" is the perfect blend of a Hitchcockian thriller, and a straight up exploitation film. It does a perfect job at keeping you guessing, while serving up a few moments of pure splatter. If this is what first time director Andrew Moorman was going for, he's definitely hit his mark. Sympathy, as you can tell by the title of this review, is a film from 2007, but it didn't get picked up for distribution until this year. Thankfully, Vicious Circle, and Breaking Glass Pictures took a chance on this one, otherwise it might have never seen the light of day.

Eight severed thumbs out of 10!
Shawn Savage
Discussion Forum
Discuss Sympathy on our Movie forum!
News & Features