Tales from the Crypt Presents: Demon Knight
(1995)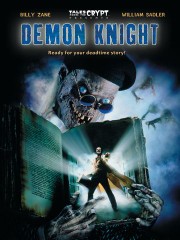 Tales from the Crypt Presents: Demon Knight Trailers & Photos
Movie Info
This first theatrical feature spun off from the television series Tales from the Crypt (which was in turn inspired by the infamous EC horror comics of the 1950s) concerns a mysterious man named Brayker (Bill Sadler), who arrives at a church-turned-rooming house in a small town in New Mexico. Hot on his trail is an equally mysterious and very menacing figure known as the Collector (Billy Zane), who arrives with policemen in tow; he claims that Brayker stole some keys from him, and he wants the cops to help him reclaim them. It turns out, however, that the "keys" are actually several amulets that contain drops of the blood of Christ; they can be used to ward off evil in the right hands, but they can lead the world to doom if used improperly. The Collector and his forces lay siege to the house with the other residents caught in the middle between Brayker and the Collector, including alcoholic Uncle Willy (Dick Miller), prostitute Cordelia (Brenda Bakke), sleazy Southerner Roach (Thomas Haden Church), postal employee Wally (Charles Fleischer), sensible Jeryline (Jada Pinkett), and landlady Irene (CCH Pounder). Bordello of Blood, the second Tales from the Crypt feature, hit theaters the following year.
more
Cast
News & Interviews for Tales from the Crypt Presents: Demon Knight
Critic Reviews for Tales from the Crypt Presents: Demon Knight
Audience Reviews for Tales from the Crypt Presents: Demon Knight
The Crypt Keeper has always looked pretty dodgy if you ask me, a pretty bad puppet but hey its not all about him. The actual set for his crypt always looks cool in a 'Munster/Addams' type way which is fun and kooky, nothing special though.

So ye olde Crypt Keeper intro's the story which is a feature length plot and based around a group of people stuck in a building with a demon outside after their blood and a special key which one of them processes. Its kinda like a horror version of 'Assault on Precinct 13' with an 'Evil Dead' black comedy angle which does work pretty well I must admit. Billy Zane does a good job as the head demon hamming it up something huge and churning out some decent lines and visual gags. Up against him is William Sadler who, for once, plays the hero and the only one who can stop the demons.

The action is good fun and chock full of decent makeup and prosthetics with lots of over the top blood n gore by the bucket full. The plot is actually quite deep revolving around demons dating back through the ages with 'chosen ones' being the only defenders etc...a bit more in depth than the usual Crypt tales.

Bottom line though if you like 'Evil Dead' or 'From Dusk Till Dawn' or 'Feast' then I'm sure you will like this.
This horror movie has a good background story, but I didn't like the characters, they didn't seem to fit right or something. This movie is kind of a mess, but it could be worse. Overall, it's just okay.
Discussion Forum
Discuss Tales from the Crypt Presents: Demon Knight on our Movie forum!
News & Features