Telmisseomding (Tell Me Something)
(1999)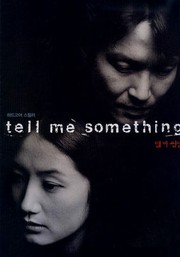 Telmisseomding (Tell Me Something) Trailers & Photos
Movie Info
This film opens with a young man arriving at an apartment and ending up on a concrete slab getting slowly dismembered with a scalpel by an unseen killer. That unfortunate soul, along with a number of other hapless victims, turns up in a bunch of plastic garbage bags littered around Seoul during Korea's steamy, rainy season. Burnt-out cop Jo (Han Suk-Kyu) is assigned to head up the investigation. The killer, who puts the limbs of a body with the corpse of another, clearly must have a basic grasp of surgery, Jo and his colleague Oh (Jang Hang-seon) quickly surmise. Their inquiry soon leads them to Chae Su-yeon (Korean idol Shim Eun-ha), a beautiful museum restorer who knew three of the victims. At first, she is wary and unresponsive. The cops' attention is briefly turned toward Kim Ki-yeon (Yu Jun-sang), an obsessive suitor of Chae who had not been seen for several days, that is, until a video tape surfaces of the missing man getting his legs lopped off. Later, as Chae begins to divulge the dark secrets of her past -- sexual abuse and the fiery death of a friend -- the body count grows and the murders become more gruesome. Director Chang Yoon-hyun's profoundly creepy "hardgore" thriller was a major box-office success in its native South Korea, matching that of Star Wars: Episode 1 - The Phantom Menace (1999). ~ Jonathan Crow, Rovi
more
Watch it now
News & Interviews for Telmisseomding (Tell Me Something)
Critic Reviews for Telmisseomding (Tell Me Something)
Audience Reviews for Telmisseomding (Tell Me Something)
½
This film heavily relies on shockability, blood and gore, without it the investigations would not have been as interesting and this film would not be popular, having said that, the blood and gore were at least something 'new' and is definitely not for the squeemish.
½
An all round good attempt at a serial killer thriller. It just can't stand up against the heavyweights in the category and results in a a bit of a mess. There's too much dialogue being spoken and not a lot of it relates to the actual murders. The film then becomes more and more complex and feels as though it is trying to confuse its audience in an attempt to seem like something more. While watching it becomes such a chore piecing it all together your brain starts to hurt. It has moments of style and moments of suspense but with 5 different writers the pacing and overall story is a jumble.
Discussion Forum
Discuss Telmisseomding (Tell Me Something) on our Movie forum!
News & Features