Tension
(1949)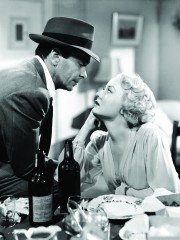 AUDIENCE SCORE
Critic Consensus: No consensus yet.
Movie Info
Richard Basehart plays a meek, henpecked chemist whose wife (Audrey Totter) is unfaithful. Using his knowledge of undetectable poisons, Basehart formulates a plan to murder his wife's lover. He eventually decides against so drastic a measure, but finds himself Suspect Number One when the lover is murdered anyway. Tension belies its title halfway through, but recovers for an acceptably heart-pounding finale. The film was one of several interesting "noir" melodramas directed by John Berry before the Blacklist forced him to work in Europe.
more
Cast
News & Interviews for Tension
Critic Reviews for Tension
Audience Reviews for Tension
Bruce Bruce
Super Reviewer
½
1949 "tension" is an underrated b picture with audrey totter who made her cameo in "postman always rings twice" as the flirtatious red-head hooks with john garfield, of course, also richard basehart who later archieves international fame in fellini's "the road" in europe right after this picture. it has all the quintessential noir elements melt with kitsch-like melodrama, but what else you could expect? it's a b picture for aficionados with a quaint knack for noir in various forms.

but its scenarios are grappling in its blatant way: a drug-store nobody who pursues his dream of 50s suburbanite lifestyle by slaving himself over the nightshifts to earn as much as he could to please his harpy wife who only fancies the luxurious goods like mink coats. but this harpy blonde would sneak any chance to cuckold him as soon as she finds some other sucker to take care of her bills, so she elopes with a liquor salesman who is apparently more capable to provide her what she wants. then this miserable nobody still refuses to concede his wife without fighting, so he shows up in the love nest of the wife and the cuckold, but he gets beaten up and sneered as "four-eyed punk"....to reclaim his pride as a man, our protagonist decides to launch a make-over of himself by getting rid of his coy glasses to re-appear as a hunky sheik named paul sothern to assassinate the cuckold...

it has the castrated sap, the ferocious dame with trademarked blonde hair, and the scheming detective copper as the fury who squares for justice. the story wheels along with a detached narrator whose simmering cynicism boils out to resonate audience's nosy by-stander mentality. as noir frequently favors to dichotomize women, there's alawys feminine nurturer to contrast the lady predator who nearly gulps men alive to attain the happy ending after the justice is served.

audrey totter was contracted b actress of mgm studio which recruits her as the bubble-bath blondie to shape another starlet with semi-lana-turner-like aroma, don't totter's hairdo and wardrobe in "tension" somehow reminiscence a bit of "postman always rings twice" in which totter also has a small but impressionable part? but totter's femme fatale may not be as glamourous as turner but definitely much more aggressive here while she glows her lines with comtemptuous mockeries to basehart. the woman characer in "tension" becomes an exaggerated grotesque of femme fatale, since b picture tends to have very limited resources so it must create its dramatic tension by deepening its stereotypes. that's what happens with "tension". it even has a music score for totter's entrance in every scene to enhance the effect as if it's notifying the audience: here comes the sexy bad woman, pretty tacky, isn't it?

(ps)

just like most normally functioning dames in her time, totter chooses to settle for marriage and homelife instead of manuevering her starlet career like a down-to-earth dame, but acting comes like fun for her to tackle ocassionally during intervals. she also leaves another noir classic "the set-up" with robert ryan as the caring brunette girlfriend. "tension" and "the set-up" proves her caliber as an actress that she could play benevolent lily and malevolent wench.
Veronique Kwak
Super Reviewer
I know Tension isn't that great but I liked it a lot. The otherwise ignorable Richard Basehart was pretty good (and dare I say enjoyable) as a sap pharmacist husband of the venomous Audrey Totter who is at the top of her game as his no good wife. Barry Sullivan is a straight-up dick as teh investigating copper and a young Cyd Charisse is nothing short of adorable. Not the best example of film noir but a pretty good one with lots of surprises and a story that never quite goes where you expect it to.
Discussion Forum
Discuss Tension on our Movie forum!
News & Features