Texas Across the River
(1966)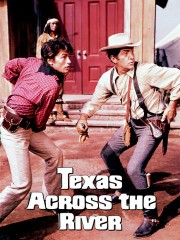 AUDIENCE SCORE
Critic Consensus: No consensus yet.
Movie Info
Dean Martin stars as an amiable gunrunner in this tongue-in-cheek western. Martin teams up with fugitive-from-justice Alain Delon, a Spanish nobleman engaged to the beautiful Rosemary Forsyth. Amidst several Indian attacks, hairbreadth escapes, and wild chases, Martin does his utmost to steal Rosemary away from Delon.
more
Cast
News & Interviews for Texas Across the River
Critic Reviews for Texas Across the River
All Critics (2) | Top Critics (2) | Fresh (0) | Rotten (0)

New York Times
Top Critic
Audience Reviews for Texas Across the River
Robin P.
Ok, ok ok! What kind of reviewer actually takes the time to review Texas Across the River?

Call me whatever, but there was a time, believe it or not, that as a member of the Rat Pack... Dean Martin and Joey Bishop could do ANYTHING in film and get away with it!

I love the title by the way, so this one gets points for at least that. More a period piece of Americana than any great statement in a film. Its sometimes amusing, but not enough.
All about a love triangle where things are resolved in Texas, which is across the river, hence the title.

This light hearted western comedy should never be taken as a serious western... just like Blazing Saddles of its era. This is a very sarcastic look at the west and shows Martin in an element the folks loved at the time. The devil may care attitude in his sylish hit TV show The Dean Martin Show, was carried into this romp through the tumbleweed.

Suggested for immature film watchers everywhere, to screw your head on straight about dry wit comedy. Again, not a serious western at all, good for seeing period filmaking at the time.

Directed by Michael Gordon
Produced by Harry Keller
Written by Wells Root, Harold Greene, and Ben Starr


Starring

Dean Martin
Joey Bishop (as an Indian?)
Alain Delon
Rosemary Forsyth
Music by Sammy Cahn and James Van Heusen (hit making duo)
Cinematography Russell Metty
monsieur rick
Discussion Forum
Discuss Texas Across the River on our Movie forum!
News & Features