The Imperialists Are Still Alive!
(2011)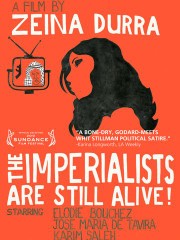 Tickets & Showtimes
The Imperialists Are Still Alive! Trailers & Photos
Movie Info
A successful visual artist working in post-9/11 Manhattan, Asya (Elodie Bouchez) lives the life of the hip and glamorous, replete with exclusive art parties, supermodels, and stretch limousines while she carefully follows the situation in the Middle East on television. Asya learns that her childhood friend, Faisal, has disappeared-the victim of a purported CIA abduction. That same night, she meets Javier (Jose Maria de Tavira), a sexy Mexican PhD student, and romance blossoms. Javier finds Asya's conspiracy theories overly paranoid-but nothing in Asya's world is as it seems. Asya's life is reflective of the themes of cultural fusion, and the complications and humor that arise simultaneously out of everyday life. Zeina Durra's atmospheric debut feature, which premiered at the 2010 Sundance Film Festival is an alluring and intelligent look at the way the war on terror seeps into the texture of everyday American life. Gorgeous 16 mm grain imbues the film with an anachronistic feel that interestingly evokes times past. THE IMPERIALISTS ARE STILL ALIVE! is an exceptional work heralding the arrival of Durra as an exciting new directorial talent. -- (C) IFC Films
more
Cast
News & Interviews for The Imperialists Are Still Alive!
Critic Reviews for The Imperialists Are Still Alive!
Audience Reviews for The Imperialists Are Still Alive!
With both hilarious satire and gentle emotional authenticity, the filmmaker, Zeina Durra, really gets the texture of young upper-class expats living in New York. She shows, on one hand, the freedom quite particular to New York City, where nationalities mix, where classes confront each other in much more ambiguous circumstances than wherever back home is, and where everyone you know is engaged is some sort of vague, self-obsessed pursuit of accomplishment --all amidst endless taxi and limo rides to the next coolest place, where you only ever stay for five minutes. On the other hand, the movie captures the way that , when you come to America, you feel as if you're in a place where the wars, the struggles, the serious business of other places, somehow get sucked into a bubble that you can look at, but not touch. Durra does an admirable job of gathering these stray pieces together to show the strange, restless state in which her characters live.

The critics speak about the influence on Durra's work from Whit Stillman's films--which I love, and which always make me laugh out loud. She certainly has learned from his marvelous ability to capture social nuances and the characteristics of class and nationality, and to satirize them with an utterly straight face. The difference, I think, is that Stillman always remains slightly aloof, maybe even slightly aghast at his characters (or am I just projecting?), where Durra approaches them here with more compassion. She eventually lets you see the substance behind characters that start out as utterly frivolous.

I'll certainly be looking for Durra's next film.
Sharon Kahn
Discussion Forum
Discuss The Imperialists Are Still Alive! on our Movie forum!
News & Features