The Perfect Host
(2011)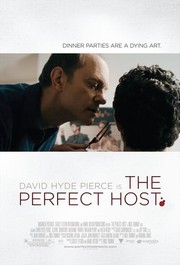 Tickets & Showtimes
The Perfect Host Trailers & Photos
Movie Info
Warwick Wilson (David Hyde Pierce)is the consummate host. He carefully prepares for a dinner party, the table impeccably set and the duck perfectly timed for 8:30 p.m. John Taylor (Clayne Crawford) is a career criminal. He's just robbed a bank and needs to get off the streets. He finds himself on Warwick's doorstep posing as a friend of a friend, new to Los Angeles, who's been mugged and lost his luggage. As the wine flows and the evening progresses, we become deeply intertwined in the lives of these two men and discover just how deceiving appearances can be. The Perfect Host is a slippery psychological thriller that exposes true human nature and reveals just how far we're willing to go to satisfy our needs. -- (C) Magnolia
more
Cast
News & Interviews for The Perfect Host
Critic Reviews for The Perfect Host
Audience Reviews for The Perfect Host
½
Directed (and co-written) by Nick Tomnay, Stacey Testro International, 2010. Starring David Hyde Pierce, Clayne Crawford, Nathaniel Parker and Helen Reddy.

Genre: Comedy, Crime, Thriller.

Question: When you are giving a dinner party, do you serve red wine, white wine or both? I prefer red wine myself but may rethink it. It really does stain your teeth.

Alright, I just finished another movie on Netflix instant play called The Perfect Host. It starred David Hyde Pierce, yes, the guy from Frasier. He plays Warwick Wilson - the host of a dinner party that gets crashed by a stranger played by Clayne Crawford (what a great name!).

Now look at the genre listing...so you know what that means: I am not going to say much about the story. In fact, I really don't want to say anything because I went into this knowing not one stitch of information and thoroughly enjoyed the last 93 minutes. What a treat!! I will say I smiled, threw my hands over my eyes, felt a little nauseated at parts and slammed my hands on the table with glee because I really, really enjoyed The Perfect Host.

David Hyde Pierce was absolutely brilliant in this movie. I am a little shocked I never heard about this movie before today. There were parts where I had reactions I wasn't expecting at some of his dialogue delivery or his actions. This role does not resemble Niles Crane at all and that was refreshing. I know many actors can't shake their past roles but this one just might have done it for Mr. Pierce. AWESOME!

Now Clayne Crawford (got to say it again - just love his name) is a newcomer for me. I did look up his resume and he has covered a broad range of TV show appearances, but I honestly did not recognize him. I think I would have with those dimples...sorry. Focus, Katy. Alright, Crawford plays John Taylor (no, not the Duran Duran bass player) who stumbles into a night he will not soon forget. I will say I thought Crawford was pretty decent in the role.

I am stopping there - NO! I will not tell you anymore details. Nope, not gonna do it. And you can't make me. I am a stubborn woman, so learn to live with disappointment in not knowing anymore about The Perfect Host. This might be my most cryptic review ever but it needs to be. Thrillers, in my opinion, should remain a mystery until you have a chance to view them. You are welcome.


My favorite part: David Hyde Pierce.

My least favorite part: The end was a little drawn out.

Rating: R
Length: 93 minutes

Review: 7 out of 10

For more reviews: www.tiredofpreviews.com or
Tired of Previews
Super Reviewer
Dinner Parties Are A Dying Art.

Good Film! I like alot the element of surprise the director brought to this film which made it unseemly so darn good wickedly fun and entertaining. The Perfect Host is not a horror film, although it's easy to see how it could have been made as one, but a psychological, cat and mouse thriller of tables (dining tables) turning and being turned as small time hood meets major lunatic! This is typically a film to watch once and never again since it isn't one that you'll always remember but it has a kind of devilish goodness to it. Enjoy!


Warwick Wilson is the consummate host. He carefully prepares for a dinner party, the table impeccably set and the duck perfectly timed for 8:30 p.m. John Taylor is a career criminal. He's just robbed a bank and needs to get off the streets. He finds himself on Warwick's doorstep posing as a friend of a friend, new to Los Angeles, who's been mugged and lost his luggage. As the wine flows and the evening progresses, we become deeply intertwined in the lives of these two men and discover just how deceiving appearances can be. With outstanding performances by David Hyde Pierce and Clayne Crawford, cowriter/director Nick Tomnay takes us on a suspense-filled ride where nothing is as it seems. 'The Perfect Host' is a slippery psychological thriller that exposes true human nature and reveals just how far we're willing to go to satisfy our needs.
The Perfect Host Quotes
Warwick Wilson: No need to thank me, John. You made things very entertaining.
Warwick Wilson: People need to understand their government's fucking serious!
Warwick Wilson: You're nothing. you're disposable,forgettable, a supporting player. You're nothing. It's like you don't even exist.
John Taylor: It may look like you have the upper hand, but if you're not paying attention your opponent can blid side you.
Discussion Forum
Discuss The Perfect Host on our Movie forum!
News & Features