The Abduction Of Zack Butterfield
(2011)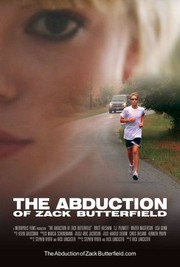 The Abduction Of Zack Butterfield Trailers & Photos
Movie Info
Laemmle Theatres and Thunder Hill are pleased to present The Abduction of Zack Butterfield, a new indie psychological thriller in which a beautiful but disturbed young woman returns from combat as an American mercenary in Iraq and abducts a 14-year-old New York boy, holding him prisoner in her isolated country home as a bizarre romantic relationship develops. Brett Helsham and TJ Plunkett star. --(c) Laemmle
more
News & Interviews for The Abduction Of Zack Butterfield
Critic Reviews for The Abduction Of Zack Butterfield
Audience Reviews for The Abduction Of Zack Butterfield
Damn! This never happened to me when I was 14. Deutchland, Deutchland uber alles. Blonde, bad and beautiful - what's not to like? Good thing I didn't read the reviews until after I saw the movie. I would have missed a great film.
Fred Cook
As a woman (and a feminist,) I find the Abduction of Zach Butterfield a brave attempt at exposing the taboo subject of a woman as sexual predator. This topic was dealt with unflinchingly in this audacious effort by an obviously neophyte director. The actors did a great job at portraying their characters and the cinematographer did an excellent job of framing the beauty of the Hudson Valley.

Brett Helsham did an amazing job of portraying the bi-polar and PTSD haunted personality of the protagonist, April. TJ Plunkett as Zack was superb. But I related most to the heart-wrenching scenes of Lisa Gunn as the bewildered mother waiting for her son to return home.

This is a very emotional and dramatic film; I immediately hated April and loved Zack. The bathroom scene was my favorite. It was exciting to watch Zack plot his escape. I'll have to watch this thriller at least five more times for a proper critique.
Anne Carole
The Abduction Of Zack Butterfield Quotes
April McKenna: Your gunna love this.
April McKenna: This is a very special necklace.
Discussion Forum
Discuss The Abduction Of Zack Butterfield on our Movie forum!
News & Features