The Babadook
(2014)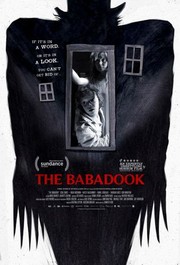 TOMATOMETER
AUDIENCE SCORE
Critic Consensus: The Babadook relies on real horror rather than cheap jump scares -- and boasts a heartfelt, genuinely moving story to boot.
The Babadook Trailers & Photos
Movie Info
Six years after the violent death of her husband, Amelia (Essie Davis) is at a loss. She struggles to discipline her 'out of control' 6 year-old, Samuel (Noah Wiseman), a son she finds impossible to love. Samuel's dreams are plagued by a monster he believes is coming to kill them both. When a disturbing storybook called 'The Babadook' turns up at their house, Samuel is convinced that the Babadook is the creature he's been dreaming about. His hallucinations spiral out of control, he becomes more unpredictable and violent. Amelia, genuinely frightened by her son's behaviour, is forced to medicate him. But when Amelia begins to see glimpses of a sinister presence all around her, it slowly dawns on her that the thing Samuel has been warning her about may be real. (C) IFC
more
Cast
News & Interviews for The Babadook
Critic Reviews for The Babadook
Audience Reviews for The Babadook
½
Having everything that is missing from modern day horror films, "The Babadook" reassures us that even though the genre may be on it's way out, it is not quite there yet. Beaming with fantastic cinematography, every shot in this film has a purpose toward eeriness feel that it is going for. What really stood out was the genius editing style that cuts from the focus of the scene to something totally out of left field that contributes to the characters emotions. The story is also very powerful, as a book is found by a little boy, his mother reads him to sleep with it, only to bring a creature into the house know as "The Babadook." The deep meaning behind the creature is really the core of this story and by the final act, I was blown away at the originality of such a basic premise. Not only is this one of the best horror films in years, but it is also eligible for one of the best films of 2014 in general. My only complaint with this picture is that once it picks it's unique tone, it doesn't go too far beyond it, which I think was needed. Overall, a brilliantly executed horror film.
½
From first time director Jennifer Kent comes a terrifying psychological horror story about what scares us, how we let it affect us, and what causes our fears. Most horror stories come from our own internal problems and fears, which is the basis for this story. Amelia (Davis) is a retirement home nurse who, long ago, lost her husband in a car accident the day she gave birth to their son Samuel (Wiseman). Her son is a very loud, disturbed, often inappropriate child who sees monsters every night, and in the light of day constructs weapons to kill them. His over-stressed, frail mother is at her wit's end with her son, and can't seem to find time to sleep or take care of herself. Essie Davis gives a powerhouse performance as the mother, coming off as a wretched former version of herself, and a possessed woman who is taken over by monstrous forces. Much like "Oculus" this film delves into horror with the ambiguity of its psychological origins, leaving us unsure of whether or not the events of the film actually happened. We remain unsure if this is a classic monster story, or Amelia is letting her son's delusions and her own, meld and evolve, to a point where she believes in monsters. This is a very subtle and yet terrifying film that also boasts some great concept art and gets its scares through good old fashion terror and not incessant jump scares. It reminds me of so many classic horror films, while also feeling fresh and new.
The Babadook Quotes
Samuel: Momma I'm hungry.
Amelia: If you're that hungry then go eat your shit!
Amelia: Where did you get those fire-crackers?
Samuel: You got them for me on the internet.
Amelia: Well that's the end of the internet.
Samuel: He's my father! You don't own him!
Discussion Forum
Discuss The Babadook on our Movie forum!
News & Features