The Death of Mr. Lazarescu
(2006)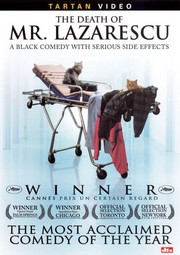 TOMATOMETER
AUDIENCE SCORE
Critic Consensus: Shot in naturalistic style, this is a powerful indictment of absurdity and indifference in the face of human suffering.
Movie Info
One evening, Mr. Lazarescu, who lives alone, feels a bit dizzy. He finally ends up being driven away in an ambulance, which is the start of a tragicomic odyssey. Each doctor who examines him arrives at an entirely different diagnosis, and his emergency treatment is incessantly postponed. The physicians are deaf to the entreaties of the patient and his friends, and they are devoid of sympathy for the elderly Mr. Lazarescu as he again plunges into the Bucharest night.
more
Cast
News & Interviews for The Death of Mr. Lazarescu
Critic Reviews for The Death of Mr. Lazarescu
Audience Reviews for The Death of Mr. Lazarescu
½
this is a good film, but the humor is so dark that you won't find yourself laughing. the cinema verite styling works well with the content, adding to the existential questions raised within the film. if you can't bear hospitals and imminent death, do not attempt to watch this movie.
[font=Century Gothic]"The Death of Mr. Lazarescu" is about Dante Remus Lazarescu(Ion Fiscuteanu), a 62-year old retired widower, who lives in an apartment with his three cats. One Saturday he has a severe headache while vomiting blood. At night, he calls for an ambulance after his condition has not improved. Certainly, he should be feeling better once the ambulance takes him to the hospital. Right?[/font]
[font=Century Gothic][/font]
[font=Century Gothic]"The Death of Mr. Lazarescu" is a downbeat and detailed epic of one ordinary man's descent into the medical world of Bucharest.(But before that can start, he is judged by his neighbors and found guilty of the sins of drunkenness, living in an unclean apartment and favoring the company of cats over humans.) The movie is not about the state of medical care in Romania("The Barbarian Invasions" makes a much better criticism of its own country's hospitals.) but that sometimes ordinary mortals and their concerns pale in comparison to much larger events.(Lazarescu just had the bad luck to fall ill the same night as a calamitous bus crash.)[/font]
Discussion Forum
Discuss The Death of Mr. Lazarescu on our Movie forum!
News & Features