The Easy Life (Il sorpasso)
(1962)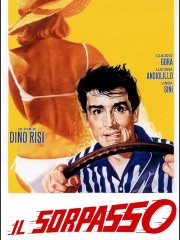 Tickets & Showtimes
The Easy Life (Il sorpasso) Trailers & Photos
Movie Info
Regarded by many as Dino Risi's finest film, The Easy Life (Il Sorpasso) casts Vittorio Gassman as Bruno, a jaded, aging roue, who introduces young Roberto Mariani Jean-Louis Trintignant to his hedonistic lifestyle.. Previously a man with a purpose in life, Roberto soon becomes as wanton and wastrelly as Bruno. The older man is proud of his handiwork--until tragedy strikes. Risi sagaciously sets his moral fable against the beauties of the Riviera; we may not approve of Bruno's lifestyle, but we certainly understand why it appeals to him. Among the screenwriters of The Easy Life was Ettora Scola, a frequent Dino Risi and Vittorio de Sica collaborator and an excellent director in his own right.
more
Cast
News & Interviews for The Easy Life (Il sorpasso)
Critic Reviews for The Easy Life (Il sorpasso)
Audience Reviews for The Easy Life (Il sorpasso)
½
"Il Sorpasso" starts with Bruno(Vittorio Gassman) driving into a nearly deserted Rome from Amalfi. While there, he asks to use the phone of Roberto(Jean-Louis Trintignant), a law student, who hesitatingly agrees. It is then that Bruno remembers that he is already an hour late for a date. So, he takes his new friend away from his studies to find lunch somewhere which is a tricky business, considering this is the August holiday. So, they head to to the city outskirts where instead of food, they discover a couple of cute German women heading in the same direction and accidentally follow them into a graveyard...

I had always suspected the buddy road comedy had been around a good long time, considering how stale it has grown. Well, in 1962, the idea was still fresh and "Il Sorpasso" is definitely an entertaining take on that idea.(And, oh my, that ending!) Or maybe it's not quite the plot that really matters, as decently executed as it is, with its share of unpredictability especially concerning Bruno's back story, but rather what it has to say about postwar Italy and not only in the obvious comments about Italian drivers.(A record player as an optional extra?) What we have here is a country torn in two different directions, going forwards so quickly that it forgets what happens two seconds in the past. And it's funny to see how wrong Bruno is about the future. Plus, contrary to him and "Back to the Future 2," we are always going to need lawyers and people like Roberto to do the thinking.
½
I first saw this film in the 1990's. It wasn't that I disliked it as much as I felt indifferent toward it. There is such a dramatic shift in tone by the time the movie reaches its end. Upon my second viewing, via the newly remastered Criterion release, I realized that there was much more going on throughout this movie than I noticed in my early twenties. Dino Risi's film has psychological and cultural depth. And, though it is hardly the first road movie --- it has the feel of many firsts in cinema. This is most certainly a film of joy, tragedy, hope and note. However, Bruno's car horn still drives me up the wall.
Matty Stanfield
Discussion Forum
Discuss The Easy Life (Il sorpasso) on our Movie forum!
News & Features