The Great Magician (Daai mo seut si)
(2011)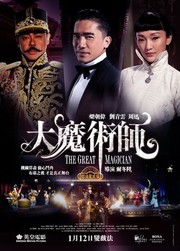 AUDIENCE SCORE
Critic Consensus: No consensus yet.
Movie Info
A famous Chinese magician attempts to rescue his fiancée from a powerful warlord in this drama set after the fall of the Qing dynasty, and adapted from the novel by Zhang Haifan. His country divided in the wake of the Revolution, famed illusionist Zhang (Tony Leung) is troubled to discover that clever warlord Bully Lei (Ching Wan Lau) is using magic to amass a powerful army. Even worse, Bully Lei has imprisoned Zhang's former flame, and intends to make her his seventh wife. Later, when Zheng's plan to rescue his love goes awry, the two talented illusionists face off in the ultimate battle of magical might. Directed by Derek Yee (Shinjuku Incident).
more
Emperor Motion Pictures International
Cast
News & Interviews for The Great Magician (Daai mo seut si)
Critic Reviews for The Great Magician (Daai mo seut si)
All Critics (2) | Top Critics (1) | Fresh (1) | Rotten (0)
The Great Magician is an undeniably charming and whimsical Chinese fantasy that captures your imagination with little effort.
Audience Reviews for The Great Magician (Daai mo seut si)
½
A clever dog is still a dog.

A revolution in China breaks out and takes down the Qing Dynasty. To prove their power over the dynasty, the revolutionaries kidnap a leader of the Qing Dynasty's daughter. The Qing Dynasty make plans to sneak back into power. Meanwhile, a strange magician arrives in the middle of these events and starts making appearances everywhere. He is angling to rescue the kidnapped girl due to a romantic history they have.

"I know these walls can't hold you. How long before you escape?"

Tung-Sing Yee, director of Full Throttle, Endless Love, Lost in Time, One Night in Mongkok, Drink-Drank-Drunk, and Triple Trap, delivers The Great Magician. The storyline for this is pretty intricate and the performers are fun and fascinating. There are some special effects that were a bit overdone but the acting and action were solid. The cast includes Tony Chiu Wai Leung, Xun Zhou, and Ching Wan Lau.

"Forget her. She's being rude as usual."

I grabbed this off Netflix because I am a fan of most Tony Chiu Wai Leung's films. This was entertaining and fun to watch unfold but I wouldn't say this is one of the favorite films of his (Infernal Affair, Hero, In the Mood for Love, etc). Overall, I would recommend seeing this but I wouldn't make this my first picture to view of Tony Chiu Wai Leung's.

Grade: B-
Kevin Robbins
light hearted, whimsical, well acted and thoroughly entertaining. This little gem coming out of china is great for a night time viewing on netflix in a sea of lesser choices on the streaming giant.
Discussion Forum
Discuss The Great Magician (Daai mo seut si) on our Movie forum!
News & Features