The Great Yokai War
(2005)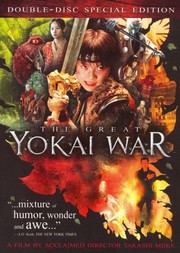 Tickets & Showtimes
The Great Yokai War Trailers & Photos
Movie Info
A group of grotesque supernatural creatures from Japanese folklore enlist the aid of a young boy recently bestowed with the title of Kirin Rider in defeating a powerful dark overlord who preys on humans and monsters alike in this kid-friendly fantasy from Takashi Miike. As a series of bizarre supernatural incidents plague the Japanese countryside and scores of children go missing, a mysterious series of mechanical monster attacks led by a dark mistress (Chiaki Kuriyama) sends the country into a panicked frenzy. In the midst of the otherworldly chaos, a young boy named Takashi (Ryunosuke Kamiki) is named Kirin Rider at a rural shrine festival and sent into the hills to claim his sword from the Great Goblin as local legend dictates. Arriving at his destination to find that the mountain is populated by a variety of ghoulish inhabitants visible only to his eye, Takashi pledges to save his new Yokai friends and put an end to the apocalyptic plot set into motion by an evil entity determined to destroy mankind.
more
Rating:
PG-13 (for fantasy violence and scary images)
Genre:

Action & Adventure

,

Kids & Family

,

Art House & International

,

Science Fiction & Fantasy

,

Comedy

Directed By:

Takashi Miike

Written By:
Takashi Miike, Mitsuhiko Sawamura, Takehiko Itakura, Hiroshi Aramata, Shigeru Mizuki
In Theaters:
Aug 6, 2005 Wide
On DVD:
Sep 12, 2006
Runtime:
Cast
News & Interviews for The Great Yokai War
Critic Reviews for The Great Yokai War
Audience Reviews for The Great Yokai War
My god how did he go from Making Ichi the Killer "Takashi Miike" to making a children's (Kids) fantasy movie with such bizarre horror yet fantastically photography and elements to do with it. By horror I mean some of the creatures are just so freighting and some are so colourful and alive. I would also like to thank Jesse P for reminding me about this I can easily forget this after watching Spirited Away (because the two films are alike).

I must say for the first time we see Miike creative detail come right out of him when he is no dreaming up the most disgusting way to die, these creatures no doubt came from Japanese's mythology (I myself am Korean) to bring this spectacular that no doubt can prove that Miyazaki isn't the only one around with talent.

A young boy is moving because of his parents divorce and they stop at a festival where for some reason he is chosen to be a "Kirin Rider" to protect all things that are good. And he himself must lead this war in the spirited world against all things that are evil even though he himself wants nothing to do with it.

It is like something Miyazaki would make with all the detail and designs on creatures though its not animated. And I think Miike himself drew all this himself which proves he doesn't have that much of a messed up mind. The creatures them selves are frighting yet some are really amazing looking "but still can be strange"

The prove they can act I admit but it isn't always strong most times. The visuals are breathtaking but it always proves that a film doesn't always have to be on CGI. This movie does something different when it comes to that.

The last thing I will see is the music really good and I think that's it. Where the hell was this movie when I was young?

Come to a close and I say see it if you love this stuff. Still one of the trippiest things i have seen, An acid trip you would fuck you up while watching this.
Ariuza koraw
Super Reviewer
½
Don't let the cover fool you, or even the source material, this is far from being the usual family friendly flick. It' s far more rewarding from what most people would think. Once you see pass some of the cheesy effects and the slow parts you'll find that the film has more brains, guts and creativity than all those by-the-numbers-kiddy-friendly fantasy flicks that hollywood is crapping these days.
Tsubaki Sanjuro
Super Reviewer
Discussion Forum
Discuss The Great Yokai War on our Movie forum!
News & Features