The Heir Apparent: Largo Winch
(2011)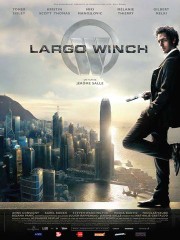 Tickets & Showtimes
The Heir Apparent: Largo Winch Trailers & Photos
Movie Info
When billionaire Nerio Winch (Miki Manojlovic) is murdered, the focus shifts to his reluctant heir, Largo (Tomer Sisley), to take over the reins of his late father's major international corporation. But first he must overcome the onslaught of drug traffickers, assassins, militia fighters and double-dealing corporate-political traders to fulfill his destiny at the head of the table in this fast-paced Euro action-adventure thriller. -- (C) Music Box Films
more
Cast
News & Interviews for The Heir Apparent: Largo Winch
Critic Reviews for The Heir Apparent: Largo Winch
Audience Reviews for The Heir Apparent: Largo Winch
This adaptation of a popular French comic book series is trying to be the corporate James Bond, and even succeeds in a couple of moments. Overall it fails to bring anything original to the table, though. In that sense, the 50% critics and 50% users vote makes total sense. There is great potential and sometimes it is used, other parts are so full of stereotypes you have to roll your eyes. Examples? The cinematography is excellent, there are several really beautiful shots. The (few) action scenes are well delivered, especially the final fight on the skyscraper roof. And there are a few twists you actually don't see coming. But then there is the tendency to dispose of every minor character as soon as it isn't needed anymore, which is lame. Just like the villain who explains all his steps to the hero, and the audience. Overall entertaining corporate crime thriller, with maybe a few flash backs too many but potential for more. Perhaps the second part avoided some of the mistakes.
Intresting movie,some fine locations used and a so so story to boot.The movie is let down by the lack of any really good action set pieces as its trying to be a sort of james bond wanna be. But part from that its a decent watch with some decent acting.
The Heir Apparent: Largo Winch Quotes
Discussion Forum
Discuss The Heir Apparent: Largo Winch on our Movie forum!
News & Features