The Lion King II: Simba's Pride
(1998)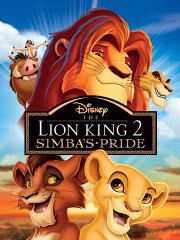 The Lion King II: Simba's Pride Trailers & Photos
Movie Info
Darrell Rooney directed this direct-to-video sequel to Disney's 1994 The Lion King, which climaxed with Simba (voice of Matthew Broderick) enthroned as the ruling king of beasts following the death of the evil Scar. With the spirited tune He Lives in You, Simba and his mate Nala (Moira Kelly) issue a triumphant announcement of the birth of Lion Princess Kiara (Neve Campbell)! Given to misadventures and mischief, Kiara wanders into the forbidden Outlands, the haunt of Scar's exiled minions, and there she encounters another mischievous cub, Kovu (Jason Marsden), son of lioness Zira (Suzanne Pleshette), once a close friend of the late Scar and now the leader of the exiles. Zira plots against Kiara, drawing her son into her scheme. Kovu has divided loyalties as his love for Kiara deepens. Several original characters (and original voices) from the 1994 film return.
more
Walt Disney Television Animation
Watch it now
Cast
News & Interviews for The Lion King II: Simba's Pride
Critic Reviews for The Lion King II: Simba's Pride
Audience Reviews for The Lion King II: Simba's Pride
½
A boring and dumb sequel that should not have been made, but i loved it as a kid so kids might get a kick out of it.
Jim Careter
Super Reviewer
Th song's are actually quite good. This film is so under rated, its better then anything disney have put out after 2004
Directors Cat
Super Reviewer
The Lion King II: Simba's Pride Quotes
Simba: No! Dad! Just A Little Farther!
Kovu: [Scar's Physical form latches onto simba] GOTCHA!! Trust Me...
Mufasa: Simbaaaaaaaaaaaa! [falls from Gorge]
Simba: NOOOOOOOO! Scar! [Scar transforms into Kovu] Kovu? [Kovu throws simba down after Mufasa]
Rafiki: I don't think this is going to work, But I trust you. I just hope you know what you're doing...
Simba: Stay out of this!
Kiara: Daddy this has to stop, a wise king once told me we are one I didn't understand him then, now I do.
Simba: But us them..
Kiara: Them us look at them they ARE us what differences to you see?
Kiara: Who do you think you are?
Kovu: I think I'm the one who just saved your life!
Discussion Forum
Discuss The Lion King II: Simba's Pride on our Movie forum!
News & Features