The Magician
(1958)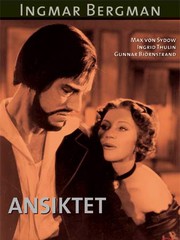 Tickets & Showtimes
Movie Info
A magician of dubious talents, Vogler (Max Von Sydow) and his traveling show are called to entertain at the home of the local police commissioner. Set in Stockholm in the 1840's, Vogler's powers are put on display for the commissioner, a doctor, and a civil servant. Despite the magicians questionable abilities, many strange and mysterious events transpire to illustrate man's fascination with the murky world of the unexplainable answers to love, life and death.
more
Cast
News & Interviews for The Magician
Critic Reviews for The Magician
Audience Reviews for The Magician
Sort've a similar set-up to The Seventh Seal. There's another great ensemble cast led by the towering Scandinavian known as Max Von Sydow. This isn't so much a historical commentary, but rather a specific look at the effects of science on professions like magicians. The doubt and suspense concerning the legitimacy of Vogler's act is really such a nice aspect. It?M)s been later used in movies like The Illusionist and The Prestige, but nothing since has quite the same authenticity of mysticism and rich storytelling.

Ingmar Bergman's vision is so unbelievably present in this and I feel that it's one of his more overlooked works. I think that it's not so filled with subjective imagery is probably what makes it so unique. This manages to have the same feeling, but at the same time a completely different way of achieving it. It's not really part of any genre, which is what is my favorite thing. Bergman kind've is a genre in itself and a great one at that.
½
Max von Sydow, Gunner Bjornstrand and Ingrid Thulin are three of Bergman's most consistent quality performers and all three have major roles in this film. There are a fair number of stereotypical character parts, mostly performed by ensemble quality character actors. Bibi Andersson is capable of far more than her giggly girl part enables her to show in this film. Indeed, there is some comedic material in this film reminiscent of Smiles of a Summer Night, but don't mistake this movie for one of Bergman's less masterful light pieces, this has real depth and substance.

There are some amazing bits of cinematography, especially the early scenes. The pacing of the movie is masterful, as is the clever use of parallels in the story - the failed actor "dying" and then reviving is a prelude to the pivotal incident around Vogler's "demise".

Top notch scenes include Mrs Egerman opening up to Vogler - she seems so lost - also both scenes in which Bjornstrand's character (Vergerus) insists that he was not taken in by the "magic".
Discussion Forum
Discuss The Magician on our Movie forum!
News & Features