The Monster from Green Hell
(1958)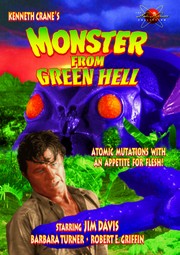 AUDIENCE SCORE
Critic Consensus: No consensus yet.
Movie Info
The American government inexplicably tries to send a box of wasps into space, but the mission ends when the rocket crashes in Africa. While on an expedition to recover the insects, an adventurer (Jimmy Lynn Davis) and his team finds the wasps have grown to immense proportions due to accidental radiation treatments.
more
Watch it now
Cast
News & Interviews for The Monster from Green Hell
Critic Reviews for The Monster from Green Hell
Audience Reviews for The Monster from Green Hell
Scientists send a variety of animals in a rocket just outside out atmosphere in order to conduct radiation tests. A few weeks later they get reports of a "monster" which is terrorizing the area (known as "Green Hell") in sub-Sahara Africa where the rocket would have landed. The scientists hear reports of large wasps that are assumed to be exaggerated. They travel to the area where the reports are coming from; in the process enduring attacks from natives, lack of water and exhaustion from the long trek combined with the heat and humidity. They find that the wasps have muted larger than they could have imagined and must devise a way to kill this hive. Decent sci-fi from this era that gets overlooked. Good adventure flick with very little fluff.
Green Hell? You talking bout the jungle? Monster from Green Hell starts out with scientist trying to understand what takes place to random objects sent to space. They send many things, one spider they send returns and its offspring is mutaited to a larger replica of its parent. They send a wasp... that is in space longer than any outher of there test, but they can not locate it on earth after the return. Strange things are happening in Africa, and being that they planed for their rocket to land in Africa, they launch a safari to Green Hell. This movie takes place in Africa, althow it starts out about outer space. They find the wasp,... Its huge, they can not kill it,... It looks bad, real bad, then.... A volcano erupts and kills the killer wasp. no shit.

If you like safari fun that dose not envolve surfin or chicks in bikinis, but the African kind, you might enjoy renting this movie and laughing at the effects. Good story line sorta, but the guy and girl we would all expect to fall for eachouther never do, not even a kiss.
Oscar D. Grouch
Discussion Forum
Discuss The Monster from Green Hell on our Movie forum!
News & Features