The Return of Dracula
(1958)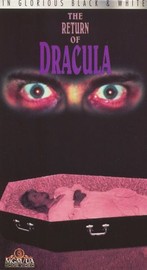 AUDIENCE SCORE
Critic Consensus: No consensus yet.
Tickets & Showtimes
The Return of Dracula Trailers & Photos
Movie Info
Originally released as The Return of Dracula (and also known by the irrelevant title The Fantastic Disappearing Man), this interesting vampire variant on Shadow of a Doubt finds the infamous Count (Francis Lederer) leaving his castle digs in Transylvania and departing for the United States after killing an artist and assuming his identity. Passing himself off as a distant relative, he settles in with the Mayberry family in California, where he begins seeking fresh victims. The suspicions of young Rachel Mayberry (Norma Eberhardt) regarding her pale visitor's eerie nocturnal habits prove well-founded after the mysterious death of her best friend, and she soon discovers her own ghastly role in the Count's master plan; her only hope lies with an expatriate police inspector, who may be familiar with the ways of the undead. Played refreshingly straight, this modest Universal production benefits from Lederer's compelling performance as the seductive Count and several unique plot twists (including a blind girl who becomes sighted on turning into a vampire).
more
Watch it now
Cast
News & Interviews for The Return of Dracula
Critic Reviews for The Return of Dracula
All Critics (2) | Fresh (2) | Rotten (0)
A Cold War horror movie in which vampirism functions as a metaphor for Communism and the forces of anti-Christianity, with Dracula a shadow version of Jesus who performs miracles (he restores a blind girl's sight) and promises immortality...
Commercial Appeal (Memphis, TN)
A satisfying low-budget schlock horror flick that has Dracula searching to rebuild his army of the undead in the New World.

Ozus' World Movie Reviews
Audience Reviews for The Return of Dracula
Francis Lederer, Played Count Dracula, posing as Bellac Gordal, Though the Name Dracula was never mentioned in the movie. But its an outstanding Black & White movie, and I am sure back in the day it frighten a few people. If you enjoy Black & White Films I would add this one to the collection.
Bruce Bruce
Super Reviewer
½
[left]Dracula (Lederer) escapes to America by murdering a Chech artist and assuming his identity. He settles in a small California town and sets his sights on corrupting pure-hearted young girls and turning them into vampires.[/left]


[center][img]http://www.geocities.com/nuelow/movdracreturn.jpg[/img][/center]



[left]"The Return of Dracula" is a vampire movie that rises far above its low budget thanks to a good script, a decent cast, and some clever touches on the part of the director. Francis Lederer (who plays Dracula) may not be a Dracula in the class of Christopher Lee or Bela Lugosi, but he holds his own here. He's comparable to--and even a little better than--Lon Chaney Jr.[/left]

[left]While one is always hardpressed to describe a vampire movie as "realistic", this one comes close. The characters are all very real-seeming and performed with great skill by the actors. Particularly noteworthy are the high-school girlfriend/girlfriend characters of Tim and Rachel (portrayed by Norma Eberhardt and Ray Stricklyn), as their relationship and behavior reminded me of my own high school love-life... either things were really racy in this movie, my life was really tame in the 1980s, or things haven't change that much for active kids in the real world, despite what pop culture and politicians would have us believe. These characters seem very real throughout the picture, up and including the way in which they ultimately come face-to-face with the full might of the vampire.[/left]

[left]The film also has several unexpected moments of artful creepiness, including one of the spookiest vampire seduction scenes ever filmed. Dracula's first victim is Jennie, a sick blind girl (Virginia Vincent) who can see him in her mind's eye as he corrupts her and devours her soul. Jennie also gets one of the creepiest vampire ressurection scenes ever filmed, as well as a very neat death scene. (The cinematography in this movie is its weakest element, but there is a shot of the vampiric Jennie flitting through the graveyard that's very beautiful. Jennie's death-by-stake moments later is also very startling, due to a bit of Hollywood trickery. I won't go into details, because the effect is one that has to be unexpected for it to have its full and starteling impact.)[/left]

[left]Like in most vampire movies, the demise of the master vampire is somewhat anti-climactic, but Dracula's death in this film is not as embarrassing as some of the deaths he suffered in various Hammer flicks. At least here he is done in partially by his own evil deeds instead of by complete accident (like when Dracula dies by thorn bush in "The Satanic Rites of Dracula"). [/left]

[left]If you're a fan of classic horror films, I recommend you seek out "The Return of Dracula". Francis Lederer may not have been the best choice to play Dracula, but the great supporting cast makes up for his slight shortcomings.[/left]


The Return of Dracula (aka "The Curse of Dracula" and "The Incredible Vanishing Man")
Starring: Francis Lederer, Norma Eberhardt, Ray Stricklyn, John Wyngraf, Virginia Vincent and Gage Clarke
Director: Paul Landres
Steve Miller
Discussion Forum
Discuss The Return of Dracula on our Movie forum!
News & Features