The Thieves
(2012)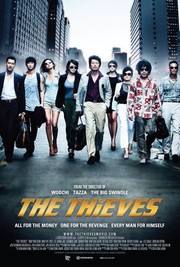 The Thieves Trailers & Photos
Movie Info
It's the score of their lives - if they can pull it off. Five thieves at the top of their game, and the crew is assembling for their biggest job yet. Popie [Jung Jae-Lee] is the muscle and brains; Pepsee [Hye-su Kim] is the safecracker. Yenicall [Giann Jun] climbs walls, Zampano [Soo Hyun Kim] is the strategy man, and Chewingum [Hae-suk Kim] is the master of disguise. But this new score - it's hot. Maybe too hot. But who can resist the Tear of The Sun: a 318-carat diamond, worth 20 million dollars, and locked away in a casino. The vault is impenetrable, the location covered in cops, and everyone knows there's no honor among thieves - especially not the crew Macao Park, Popie's old partner, has forced their team to work with. -- (C) Well Go USA
more
Cast
News & Interviews for The Thieves
Critic Reviews for The Thieves
Audience Reviews for The Thieves
The Thieves follows hardened robber Macao Park who wants to steal a $20 million diamond from a casino in Macau. In order to pull off the perfect heist, he enlists the services of Korean and Chinese thieves. What looks to be a smooth heist suddenly shatters into a botched job as each thief begins to reveal their true motives and lots of betrayals and grudges surface before any thief can get to the diamond.

The Thieves is a mixture between the Oceans and Mission Impossible series. You have a star studded cast like in Oceans with their own dynamic and set pieces that have a similar design to Mission Impossible. With multiple characters and subplots were expected to follow it can be easy to lose track of what's happening. With good pacing the plot never becomes too overwhelming to take in even when things become hectic in the final act. It does however go a bit too far with the many twists and betrayals that become abuse in the second half of the film. It breaks up the momentum whenever characters explain themselves for their certain actions. Some subplots end without being resolved, but the development given to the crew never makes them feel like an afterthought to the story.

There's no shaky cam, fancy editing, or heavy uses of CG when it comes to it action set pieces. The practical action sequences are few in numbers, but one elaborate shootout and good stunt work on the side of a high-rise building will make up for it. In a film with this big of a cast it's hard imagine anyone standing out, but actor Yun-soek Kim does just that. The only cast member I knew going into this was Simon Yam, but Yun-soek Kim took my attention given how he has more screen time and a more interesting role. The Thieves is a great heist film that make its two plus hour running time fly by mostly without hitch.
Caesar Mendez
Super Reviewer
½
A heist film America wishes it could make. Funny, lots of action and some very human/touching moments with an ending that keeps you guessing. A great cast ensemble cast helps too!
Discussion Forum
Discuss The Thieves on our Movie forum!
News & Features