This Movie Is Broken
(2010)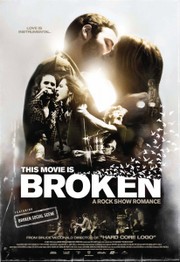 AUDIENCE SCORE
Critic Consensus: No consensus yet.
This Movie Is Broken Trailers & Photos
Movie Info
Unbelievable! Bruno (Greg Calderone) wakes up in bed next to Caroline (Georgina Reilly), his long time crush. But tomorrow she's off for school in France, and maybe she only granted this miracle as a parting gift for her long time friend. So tonight -- tonight is Bruno's last chance. And tonight, as it happens, Broken Social Scene, her favourite band, is throwing a big outdoor bash. Maybe if Bruno, with the help of his best pal Blake (Kerr Hewitt), can score tickets and give Caroline a night to remember, he can keep this miracle alive.-- (C) Alliance Media
more
News & Interviews for This Movie Is Broken
Critic Reviews for This Movie Is Broken
All Critics (4) | Top Critics (1) | Fresh (3) | Rotten (1)
It's a Broken Social Scene movie, with a sweet tease of a story that pretends for a moment that Toronto and Paris could share an affair.

Globe and Mail
Top Critic
Despite its limitations of form, This Movie Is Broken does a good job of communicating the Broken Social Scene experience. If there's anything to the adage of "Leave 'em wanting more," then it's the movie's strongest suit.
Audience Reviews for This Movie Is Broken
If this is an example of the current state of Indie filmmaking in Canada, things are worse than I thought.
Movies like Dazed and Confused, Nick and Norah's Infinite Playlist, and This is Spinal Tap celebrate music and how a specific time's culture is influenced by it. There's so much that can be done, particularly if the subject involves teens all flocking to see a band they all like. Lots of room for character development, lots of room to examine a band's impact on a group of people.
Not so in the case of Bruce McDonald's This Movie Is Broken. The film focuses on the band Broken Social Scene, a popular Indie band that hails from Toronto. The setting is 2009, amidst a garbage strike that plagued the city for weeks. Because of this strike, Broken Social Scene had to cancel a show, but decided they'd still perform for free by the Harbourfront. This is the background for a cliche love story that offers very little insight into anything about romance. Bruno wakes up next to Caroline, a one night stand that he hopes he'll be able to turn into a full out relationship, since he's had a crush on her for a long time. She leaves for France tomorrow, so he has one night to convince her to stay. Hmm, I've seen this movie countless times.
Now the problem is that the movie is too focused on showing the band's concert that it forgets about the story. The resolution happens, and you couldn't care less.
Also, a movie based on a band should suggest why this band is important enough to have their own film. I don't like Kiss, but I was able to enjoy them in Detroit Rock City. I'm not a fan of hip hop, but 8 Mile was great. Broken Social Scene, to me, is mediocre at best, but this movie does nothing to celebrate the band's impact on the Indie scene in Toronto (which is massive), or anything at all that makes you appreciate these artists.
This movie is broken all right. And it'll be too difficult to fix. Just avoid it.
½
If Broken Social Scene wanted to put out a rockumentary, or a concert dvd they should have done just that, and not made, or helped make this. BSS is one of my favorite bands, so this is kind of hard for me to do. What I thought coming in was this was going to be a film about 2 people that revolved around them going to a BSS show, what it really is, is a BSS show that is wrapped around a short story, that ultimately fall flat. Another film that has a great trailer and an unsatisfactory final product. If we're supposed to believe the lead character Bruno is really in love with Caroline, why in God's name did he hook up with his best friend (who is a dude, is he gay? We don't know). Fail.
Discussion Forum
Discuss This Movie Is Broken on our Movie forum!
News & Features