Tom, Tom, the Piper's Son
(1969)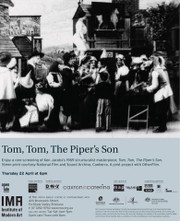 Want to See
Critic Consensus: No consensus yet.
News & Interviews for Tom, Tom, the Piper's Son
Critic Reviews for Tom, Tom, the Piper's Son
All Critics (1) | Fresh (1) | Rotten (0)

Ozus' World Movie Reviews
Audience Reviews for Tom, Tom, the Piper's Son
Ken Scheck
½
Ken Jacobs' film begins with the 1905 short of the same title -- a mildly amusing but forgettable little farce. He then proceeds to deconstruct the holy hell out of it for the next 100 minutes. At times he appears to be examining it for sinister clues, as if it were the Zapruder film: freeze-framing, step-framing, running it backwards, isolating a particular detail. At other times, he creates an abstraction out of it: zooming in on something unrecognizable, or running it through the gate (I don't know the technical term) so that it blurs. He also shows the mechanics of movie watching, showing us the movie screen or the flickering light of the projector. After all that, he repeats the short once more, now with a host of different perspectives in the viewer's mind, and caps it off with one final abstraction. It's a great idea, and unlike something like La region centrale, really needs to be seen to be appreciated. It works very well. I won't criticize the length, although it does get occasionally wearisome (the blurring section goes on rather long)... but the sheer excessiveness of it is part of its charm. However, it's definitely not for everyone and is pretty much a "watch it once" kind of thing.
Discussion Forum
Discuss Tom, Tom, the Piper's Son on our Movie forum!
News & Features