Quando Alice Ruppe lo Specchio (Touch of Death) (When Alice Broke the Mirror)
(1988)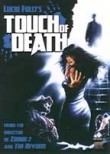 AUDIENCE SCORE
Critic Consensus: No consensus yet.
Movie Info
Lucio Fulci's gory, tongue-in-cheek horror film stars Brett Halsey as a gold-digging psycho preying on wealthy widows with physical handicaps. Woman are cut apart with chainsaws, cooked in microwaves, and so forth, courtesy of effects-man Angelo Mattei, before being immaculately disposed of by the strangely prissy killer. Ria DeSimone, Pier Luigi Conti, and Sasha Darwin co-star in this peculiar, uneven bloodbath. ~ Robert Firsching, Rovi
more
News & Interviews for Quando Alice Ruppe lo Specchio (Touch of Death) (When Alice Broke the Mirror)
Critic Reviews for Quando Alice Ruppe lo Specchio (Touch of Death) (When Alice Broke the Mirror)
All Critics (1) | Fresh (1) | Rotten (0) | DVD (1)
If you're looking for a comedy that is truly black, or a slice and dice with lots of gooey goodness, Touch of Death will delight and disgust.

Audience Reviews for Quando Alice Ruppe lo Specchio (Touch of Death) (When Alice Broke the Mirror)
Fulci made this for TV which is hard to believe because the death scenes are so graphic. In fact the camera often lingers on the gore while slowly zooming in just to prove that there's gore on the screen right in front of you in case you forgot what you were looking at 5 seconds ago. But it's truly a mixed bag because strewn about here and there are bits of comedy, both intentional and unintentional. It's like the three stooges meet's Lustig's 'Maniac' on the set of Henry: Portrait of a serial killer. Throw in also that the story just ends up not making any sense
Sean N
After taking a glance at my DVD collection, I've decided the only possible thing I could do that would make less sense than buying all these movies would be to review each and every one of them. So this is the start of what [b]will[/b] take a long, LONG time, wading through the peaks and valleys of my collection.

[i]Maniac
[/i]Coming in at the end of the '70's exploitation boom, [i]Maniac[/i] is bloody, ugly, dark, and just a little bit crazy. And mysoginistic enough to throw Siskel and Ebert into a fit of rage. In fact, the [i]Maniac [/i]DVD has a collection of awful reviews this movie has recieved. But it does have a gritty charm to it, and excellent gore effects by Tom Savini. Sure, the end is kind of wacky, but it's worth checking out as an entertaining example of the exploitation genre.

[i]Touch of Death[/i]
I love Lucio Fulci. Love him, love his work. This, however, is Fulci at his lowest point. This movie is bizarre, twisted, voyeuristic garbage about a maniac who attracts wealthy widowers to his home, seduces them, and then murders them. The scenes particularly with the murderer making out with some of the uglier bridge club ladies is just...weird. It looks and feels like bad pornography.

[i]Berserk[/i]
Great gothic fantasy anime. The animation can be hit and miss in certain situations, as with most TV broadcasts, but overall the story is engaging and well worth a watch for any D&D or Lord of the Rings nerds.

[i]Naked Lunch[/i]
Cronenberg's woefully underappreciated take on the original novel, mixing both the fiction and the biography of it's author William Burroughs. It's one of those movies were it's effectiveness depends on how you percieve it, kind of like [i]American Psycho.[/i] If you treat it as a comedy with autobiographical elements, it's fantasticly funny. If you treat it like a serious drama, you're probably going to be left in the dark. It bends reality and fantasy, like a lot of great Cronenberg movies, and his take on the Beat era of American literature, and specifically it's use of drugs as a gateway to creativity, is engrossing.

[i]Ichi the Killer[/i]
Takashi Miike is Japan's most unpredictable filmaker, and [i]Ichi[/i] is just that. It's a mash up of Yakuza movies, comedy, and extreme torture. It works on a visceral level, and Miike's usual subtext lingers just underneath. But unlike some of his other work, what Miike is trying to get at with this menagerie of bizarre characters and situations is a little elusive. Let me just say, that if you became a fan of this director because of this work, then you might be surprised by [i]Audition, Happiness of the Katakuri's, [/i]or [i]Izo.[/i] [i]Ichi[/i] bears much more resemblance to his early work, like [i]Fudo: The New Generation[/i] than his newer stuff.
Patrick Spohr
Quando Alice Ruppe lo Specchio (Touch of Death) (When Alice Broke the Mirror) Quotes
Discussion Forum
Discuss Quando Alice Ruppe lo Specchio (Touch of Death) (When Alice Broke the Mirror) on our Movie forum!
News & Features