Tuesday, After Christmas
(2011)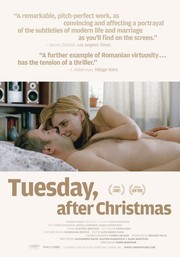 Tickets & Showtimes
Tuesday, After Christmas Trailers & Photos
Movie Info
The Romanian New Wave of the past decade has yielded such internationally acclaimed gems as 4 Months, 3 Weeks and 2 Days, The Death of Mr. Lazarescu and 12:08 East of Bucharest. Add to them Tuesday, After Christmas, an elegant, emotionally resonant drama of a middle-class couple whose 10-year marriage is rocked by the husband's illicit affair with their daughter's sexy dentist. In many respects it's an oft-told tale: Paul must choose between the easy rapport and stability of his family life and the uncertainty and excitement of a relationship with a much younger woman. In scorchingly intense long takes, the power dynamics among these three are unpredictable and, in the end, devastating. The fact that the two leads are actually a married couple adds to the verisimilitude. --(c) Lorber
more
Cast
News & Interviews for Tuesday, After Christmas
Critic Reviews for Tuesday, After Christmas
Audience Reviews for Tuesday, After Christmas
½
Who knew that Romania, of all places, was the wellspring of tremendous artistic talent? Over the last five years or so, Romania has been home to a burgeoning renaissance of daring, provocative, and naturalistic films, its own New Wave of Eastern-bloc cinema. Some of these gems include The Death of Mr. Lazarescu, 12:08 East of Bucharest, the understated Police, Adjective, and the award-winning, grueling abortion drama, 4 Months, 3 Weeks, and 2 Days, winner of the prestigious 2007 Cannes Palme d'Or. Director/co-writer Radu Muntean's Tuesday, After Christmas is a worthy entry into the ever-growing canon of stupendous Romanian cinema. It and many other of these Romanian renaissance pictures are available via Netflix streaming, so if you're unfamiliar with these great movies, now is as good a time as any to play catch-up.

Paul (Mimi Branescu) is a middle-aged man coming to a crossroads at his life. He loves two women: Adriana (Mirela Oprisor), his wife of ten years who they share a young daughter, Mara; and Raluca (Maria Popistasu), a dentist in her late 20s. His mistress has accepted her role but wouldn't mind reaching out to Paul's daughter. Paul is unhappy with his wife but is he unhappy enough to come clean about his infidelity? Over the course of a few days around Christmas, Paul will decide which woman he will stay with.

This movie is something of a small miracle in how naturalistic it plays. The dialogue is splendid, reverberating with the rhythms of real speech but also giving weight to the characters, fleshing out personalities, relationships, and penetrating subtext. I was luxuriating in the dialogue and its nuances. To some people Tuesday, After Christmas will be a boring movie, but for me I was on the edge of my seat thanks to the dialogue and characterization. If ever Richard Linklater (Dazed and Confused, Waking Life) were to make a Romanian film, it would be this. Like Linklater's Before Sunset, watching these actors speak such truthful, personable, revealing dialogue is like listening to birds sing. It's such a pleasure for the ears. Take the first scene, a sexy, nearly six-minute unbroken shot of a couple in bed. Over the course of those six minutes Muntean and his actors peel away the layers, revealing more and more of these characters and their situation. We can tell from their playful, affectionate, and relaxed manner that they are lovers. Also the fact that they are naked seems rather telling. Then we learn who they are naturally. He pretends to take offense at her admission of other lovers' penis sizes, and pretends to bite her nipple, which makes her examine his teeth and chide him that smoking harms his teeth. Right there we learning about her sexual past, his mixed feelings about it, their teasing relationship, and her profession. And then, of course, we learn that the man is married and this is the "other woman." That six-minute scene is near perfection. It sets up the characters, the conflict, and not a single point felt false or contrived. The rest of the movie follows suit, from the mundane moments of married life (rubbing a spouse's feet) to the quiet storm of indecision.

There isn't a wasted line of dialogue or a camera shot in this entire movie. Part of that is because Muntean deals in extremely long takes. There isn't one camera shot that lasts under a minute; most of the camera shots last for several minutes, some approaching double digits. In other hands, the glacial pace of the camerawork would make the movie feel trapped and stagnate, as I felt watching the clinically dull movie, Shame. Instead, this movie is captivating because of the draw of the characters and the inherent drama/irony presented with the romantic triangle. A dental appointment for Mara becomes an uneasy, squirmy situation of great ironic tension, watching Paul shift uncomfortably and trying to mentally figure out what direction to take as his mistress speaks to his wife. Tuesday, After Christmas feels more like a stage play than anything cinematic, unless you're counting the French New Wave (and why shouldn't you?). The scene where Paul mulls over whether to tell his wife is more suspenseful than most Hollywood movies. The devastation that follows is heartbreaking but completely absorbing. This tiny Romanian film is so astutely well observed when it comes to human foibles and interaction that the film almost feels like a documentary. The patient, deliberately elongated takes further crystallize this sensation, making us feel like we are inappropriately eavesdropping on some very serious personal drama.

The acting is equally remarkable. For this movie to really work the three actors must step up their game, and all three came to play. First off, Branescue (Outbound) has to do his best to engender empathy because our introduction to the guy is during a romp with his mistress. But in those early moments we see how kind, lively, and peaceful he can be. Maybe this arrangement is good for him, we question. Then we see his interaction with his wife, and they are less lively, as the day-to-day grind of marriage can take its toll, but their interaction is warm, personable, and even through the mundane activity of Christmas shopping, we can piece together their relationship, which doesn't seem troubled but resting in that comfortable position long-term relationships can plateau. Branescue never comes across as a scheming cad to vilify or a romantic victim. Instead his performance makes him spookily identifiable - this could be anyone. This could be you, assuming "you" are male and possibly living in Romania. The everyday nature of the character and his conflict, and Branescue's nuanced performance, makes the guy empathetic even when his world is crashing around him and it's his fault.

The women of Tuesday, After Christmas are also unforgettable. Popistasu (Midnight Man), as the mistress, is mesmerizing, a beautiful woman reminiscent of a Romanian Melanie Laurent (Inglourious Basterds), able to communicate so much with her body language. That first scene with her nude in bed establishes her as a charming, intelligent, rationale ingénue, neither calculating nor flighty. She feels like a real woman, and her relationship with Paul seems to bring out her spark, judging from that sparkling opening sequence. Likewise, Oprisor (Youth without Youth), as the wife, is equally compelling a figure, a woman settled into her marriage and her job and being a mother. Her reaction to Paul's admission of infidelity is the movie's dramatic highpoint, and we witness the actress seemingly go through every stage of grief in a manner of minuets, from anger and betrayal to thinking out the next course of action.

I know "Romanian relationship drama" probably doesn't sound like a rollicking night out at the movies, but Tuesday, After Christmas is such an expertly crafted film, carefully observed, impressively acted, gloriously naturalistic in dialogue and direction, and even humorous. Yes, for a movie about infidelity and the possible explosion of a marriage, there is plenty of humor to be found naturally. You may feel stirring of romantic happiness with Paul and Raluca, so much so that you too share in Paul's guilt. You'll feel the disquiet during that meeting of mistress and wife. You'll feel the ache when Adriana really lays into Paul, a deserved and withering attack. You'll understand where every person is coming from. But mostly you'll feel like you've watched a really good movie. Tuesday, After Christmas is richly attuned to the subtleties of human joys, conflict, and reactions, and a movie that will linger with the ring of truth. Don't be a stranger to Romanian cinema. Start here and work your way back. The rewards are worth it.

Nate's Grade: A
Nate Zoebl
Super Reviewer
½
To start, "Tuesday, After Christmas" has certain things in common with other Romanian films that caused the Romanian New Wave to implode, taking half of Hungary with it, such as epic and talky static scenes. While this movie does not take care to accent the consequential scenes over the less so(yes, we get it already that the movie takes place near the Christmas holidays), it still does have a stunning opening of Paul(Mimi Branescu), a banker, and his younger mistress Raluca(Maria Popistasu), a dental hygienist, frolicking in bed together and eventually a devastating climactic scene. In between is a perceptive behavorial study into how people act when they are around different people. Paul is at his most relaxed when he is around Raluca, maybe because he realizes how lucky he is that a beautiful woman is paying attention to him, considering his being middle-aged and overweight. Otherwise, they have to be careful to not acknowledge each other when he and his wife Adriana(Mirela Oprisor) bring in their daughter to have braces installed. For the record, Adriana and Paul simply share that familiar manner of two people who have been together for a long time.
Tuesday, After Christmas Quotes
Raluca: I'll write to Santa and tell him to bring me a man with more willpower.
Raluca: You've made a rag of me.
Discussion Forum
Discuss Tuesday, After Christmas on our Movie forum!
News & Features