Tulpan
(2009)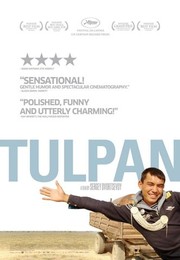 Tulpan Trailers & Photos
Movie Info
Big ears can be a real problem. Asa, our hero, never thought about it until he considered the idea of marriage.
more
Watch it now
Cast
News & Interviews for Tulpan
Critic Reviews for Tulpan
Audience Reviews for Tulpan
[font=Century Gothic]In "Tulpan," Asa(Askhat Kuchinchirekov) is home from the navy and is seeking a wife, so he can get a flock of his own from his brother-in-law Ondas(Ondasyn Besikbasov) who feels that a herdsman cannot survive without a wife to take care of the domestic duties that are required, not to mention the whole business of having children and raising a family. At the same time, the sheep are having no problem getting pregnant, but are having a great deal of difficulty giving birth to live offspring which endangers the livelihood of the shepherds living on the desolate Kazakh steppe who have never seen an ocean, much less a body of water. So, when Tulpan rejects Asa as a husband, it is not because of physical appearance, it is because of what kind of husband he would make and what kind of future they would have together. Along those same lines, Asa is considering moving to the city with his pal Boni(Tulepbergen Baisakalov).[/font]

[font=Century Gothic]If only the story had been stronger and photography had been better, "Tulpan" might have been truly something. Handheld photography is meant for intimacy and works best inside, whereas here the terrain should have been one of the central points of interest. As it is, it is a fairly interesting look at a different way of life.[/font]
½
An interesting tale of the true Kazakstan..in other words the non Borat version. After being taken with the intriguing people of the Steppe, the film drifts slightly and is inconsistent. Attention span alert for those easily distracted..give it a skip.
Discussion Forum
Discuss Tulpan on our Movie forum!
News & Features