Two Escobars
(2010)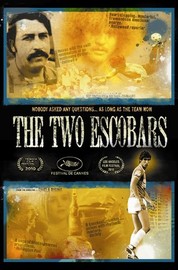 Two Escobars Trailers & Photos
Movie Info
Andrés Escobar was one of Colombia's best and most respected athletes, a gifted soccer player whose strong character made him a role model and who led his team to a spot in the World Cup in 1994. Pablo Escobar was not related to Andrés, but they came to know each other well -- Pablo owned the team Andrés played for, and bankrolled the recruiting drive that helped make them one of the world's best. But while Andrés was seen as a hero, Pablo made his money as a large-scale drug trafficker, and he got involved in professional soccer because he loved the game but also needed to launder his ill-gotten fortune into a legitimate business. Pablo created an image for himself as a Colombian Robin Hood, opening clinics, creating low-cost housing, and building soccer fields for the poor, but he and his henchmen were willing to use violence to achieve their ends, and when Andrés fumbled an important game during the 1994 World Cup games, he learned a painful lesson about loyalty among Escobar's underlings. Filmmakers Jeff Zimbalist and Michael Zimbalist share the remarkable true story of two very different men whose love of a game brought them to good and bad ends in the documentary The Two Escobars. The Two Escobars received its world premiere at the 2010 Tribeca Film Festival.
more
News & Interviews for Two Escobars
Critic Reviews for Two Escobars
Audience Reviews for Two Escobars
Lorenzo von Matterhorn
Super Reviewer
Despite being more than a little overproduced, "Two Escobars" has a very good starting point of one coincidence, that of two very disparate and not-related individuals in Colombia named Escobar, Pablo, drug kingpin and murderer, and Andres, star soccer player. That's not to mention some very good home footage that I would like to know how the filmmakers got their hands on. However, even after hearing from friends and relatives(some of whom you would not take home to meet your parents while others work on their image) of both men, we get little depth on Andres, outside of a petition for beatification. As for a connection, that comes down to soccer in Colombia in the 1980's which became a prime point for money laundering which helped the sport thrive there, climaxing with the country's sole World Cup berth in 1994 in the United States. That's not to mention the speculation that Pablo's death led indirectly to Andres' death.

Those deaths and many others "Two Escobars" wants to desperately pin on the evil of drugs but it is never that simple. In fact, I think it has more to do with escalation and how violence never solves anything. To start, Pablo becomes a hero to the poor despite his unsavory profession and body count, because the Colombian government does very little to alleviate poverty in its own country while he builds housing and helps in other ways. Instead said government takes a lot of American money to get rid of Pablo which ups the body count. Along these same lines, an interesting line of thought that is never explored is Colombia's relation to the United States and how that affected the lives of both men.
½
One of the best documentaries I have seen. The film was very engaging, and very heartbreaking.
Discussion Forum
Discuss Two Escobars on our Movie forum!
News & Features