Un Secret (A Secret)
(2008)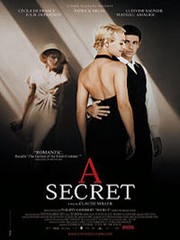 TOMATOMETER
AUDIENCE SCORE
Critic Consensus: A Secret is poignant, sad, and beautifully crafted, featuring fine performances that stave off a drift toward soap opera territory.
Un Secret (A Secret) Trailers & Photos
Movie Info
Informed that his elderly father has mysteriously disappeared, anxious Parisian François (Mathieu Amalric) recalls his tragic family history in director Claude Miller's adaptation of the fact-based novel by author Philippe Grimbert. As a sickly young child, François (Valentin Vigourt) instinctively knew that he was a disappointment to his champion swimmer mother, Tania (Cécile De France), and gymnast father, Maxime (Patrick Bruel). While François does find some amount of solace in his friendship with kindly masseuse Louise (Julie Depardieu), his discovery of a strange toy in the attic causes his parents to act more strangely toward him than ever before. Feeling sympathetic toward the young boy, Louise eventually reveals to François that he once had a half brother, and that his parents weren't drawn together by fairy-tale romance but through violence and strife. Back before the war, Maxime became engaged to the beautiful Hannah (Ludivine Sagnier). While Hannah's parent's were keenly aware of the ominous implications of Hitler's rise to power, Maxime worried little since he always considered himself French first and foremost. At the wedding, however, Maxime finds his gaze frequently wandering from his fetching bride to athletic beauty Tania. Later, after the happily married bride gives birth to a handsome young boy named Simon (Orlando Nicoletti), the Nazis invade and the once-happy family is torn violently asunder.
more
Cast
News & Interviews for Un Secret (A Secret)
Critic Reviews for Un Secret (A Secret)
Audience Reviews for Un Secret (A Secret)
½
A rather slow moving, nice French film about the holocaust, and its effects on an entire family. The movie is rather tedious, even as it portrays deep passions, and grief, flickering just below the surface of its characters. However, the acting is wonderful, and all else is beautifully done....so I forgive them.
[font=Century Gothic]In "A Secret," it is 1955 and Francois(Valentin Vigourt) is a bookish seven-year old boy who comes as something as a disappointment to his athletic parents(Patrick Bruel & Cecile De France), spending most of his time at the home of Louise(Julie Depardieu), a doctor and family friend who injects him with daily vitamin shots. Therefore, Francois imagines having an older brother who is everything he is not.[/font]
[font=Century Gothic][/font]
[font=Century Gothic]It is 1985 and Francois(Mathieu Amalric) is a doctor who works with the handicapped. One day, he receives word that his father's dog has died and that he is missing from home.[/font]
[font=Century Gothic][/font]
[font=Century Gothic]"A Secret" is an intelligent movie about identity with a fine cast that while moving back and forth in time, manages to return to the same point in space.(Speaking of which, it is interesting to see Ludivine Sagnier not to play the sexpot for a change...) Much of Francois' day dreams make sense, considering they probably originate from snatches of overheard conversations between his parents over the years. As good as the movie could have been, it is marred by two obvious flaws. First, there is the central incident which comes late in the film, so I will not spoil it except to say that I believe the correct turn of phrase is cutting off the nose to spite the face. Since the resolution of the movie hangs on this one scene, then it is very important that it be credible. Of which I have my doubts, even though the movie's central story is based on a true story. So, did this really happen? Second, Francois(who is probably scarred for life from seeing his parents have sex) boils the entire Holocaust down to people having more love for their pets than their fellow human beings. He is right that this is definitely a misplacement of priorities but not a very serious one and he has it the wrong way around, anyway.(He is also wrong about his father. In mourning the death of his dog, old memories are suddenly brought to the surface, much like with the stuffed toy thirty years previously.) The Nazis(and any other genocidal maniacs, for that matter) lowered their intended victims to the level of animals, so as to make it that much easier to kill them. [/font]
Discussion Forum
Discuss Un Secret (A Secret) on our Movie forum!
News & Features