Underworld: The Rise of the Lycans
(2009)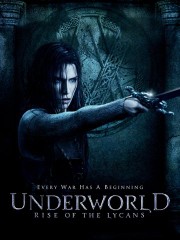 TOMATOMETER
AUDIENCE SCORE
Critic Consensus: Despite the best efforts of its competent cast, Underworld: Rise of the Lycans is an indistinguishable and unnecessary prequel.
Underworld: The Rise of the Lycans Trailers & Photos
Movie Info
The Underworld series gets the prequel treatment with this third outing that fleshes out the story of the ancient war between the vampiric Death Dealers and their wolfman counterparts, the Lycans. F/X technician Patrick Tatopoulos (Godzilla, Independence Day) steps out of the effects lab and into the director's chair with this entry, which sees stars Bill Nighy returning as Viktor, the king of his vampire clan and father to Sonja (Rhona Mitra), a free-minded heir who tests her parent by heading outside of their castle's borders and doing battle with the ravenous werewolves of the surrounding area. Sonja also has a secret love affair with Lucian (Michael Sheen), the first of the Lycans, a race of lycanthropes who were bred by the vampires to be slaves and protectors to the bloodsucking clan. As the news of their love spreads to Viktor, ranks of the vampire elite help Lucian escape, leading to a revolution of the Lycans against their masters and setting up the mythology of the later latexed adventures featured in Len Wiseman's two previous films. ~ Jeremy Wheeler, Rovi
more
Cast
News & Interviews for Underworld: The Rise of the Lycans
Critic Reviews for Underworld: The Rise of the Lycans
Audience Reviews for Underworld: The Rise of the Lycans
Hmmmm double edged sword here methinks. I liked this for its imagery and ideas, my love for vampire and werewolf films sways me to the dark side and I can't help but love the blood dripping, hairy moon walking action :).

Problem is although there are some nice lycan moments of battle action and great misty dark looks there are just so many silly moments and things that just don't add up. For starters I have these questions...

1. Why does 'Viktor' have blues eyes yet no others vampires do?
2. Why do the vampires need protection from the lycans? protection from what?
3. Why do they need lycan slaves?
4. Why are most lycans long haired men? no females?
5. When 'Viktor's' daughter was put to death why didn't Lucian just turn to lycan form and free her? (as he did when he attacks 'Viktor' after her death, he breaks his chains without a problem)
6. How come 'Raze' (big black guy) can just rip dungeon doors off at the final battle sequence? why didn't he just do that at first to escape?
7. What happened to the human nobility?
8. Why were there humans chained to the back of the human nobility's wagon? (where we meet 'Raze')

There are just so many questions that spoil the film, I also hated the endless stream of armour clad vampires that just live to die from lycan attacks, much like 'stormtroopers' hehe.

The film is good and does complete the trilogy nicely but its very holey plot wise. The effects are nice, lots of CGI of course but its reasonable. Some slightly risky lycan CGI in places but the vampire makeup and costumes are excellent, Nighy's blues eyes really pierce the darkness.

I just wish to see more of the vampire background in the underworld universe, vamps around the globe, how the species started originally, their hierarchy or nobility outside 'Viktor' etc..

I could watch another film about the vampiric history of this franchise but unfortunately we got a rather stupid futuristic idea that harks to 'Resi Evil'...bad move. Despite that and lots of bad reviews I do like this film for what it is, you get what you expect but bucket loads of it in medieval times with extra blood.
For me the most fun of the franchise as it felt a little more original than the others. The first being 'The Matrix' with vamps and werewolves, the second being almost a love interest film and the fourth being a mess of too many other film ideas. Overall it could all be so much more with better CGI/real time effects that's for darn sure.
½
A surprisingly decent and enjoyable film that is a departure from the previous two entries. I really didn't enjoy the second film, and I was skeptical about this one. I was surprised it wasn't a total waste. The film was better, but it also had its fare share of flaws. The film although interesting in its idea, shows that the filmmakers were struggling with the material that they conceived for this prequel. The film tends to try too hard at delivering a competent story. Despite its potential, the film never succeeds entirely at being a great film. The result is a decent popcorn flick that is much better than the second film, but is overdone. I feel they should just have stuck with the basics instead of over complicating the story. The Underworld franchise has always been about mindless action horror, but where most of the films fail is that the filmmakers tend to put far too much content in its story just for the sake of it. This is a decent third film, one that should appeal to fans of the series. I feel though that a lot more effort could have been put into the films plot to truly make in engaging. However, this series goes for mindless action first, effective story telling second. But the films have delivered anything truly great story wise either. This prequel is decent for what it is, but leaves a lot to be desired as well. Worth watching if you're a fan of the first films, but of all the Underworld films that really stands, the original is the best one to watch. Rise of the Lycans is a decent take at a prequel despite its flaws.
Underworld: The Rise of the Lycans Quotes
Lucian: I love you.
Sonja: And I love you. Your face will not be here when this is over will it? Goodbye my love.
Raze: Lucian, it is finished!
Lucian: No, this is just the beginning.
Lucian: I saw what you did out there... very brave... for a human. Have you come across them before?
Raze: Only in stories...
Lucian: Were you not afraid of them?
Raze: Yes, but I wanted to live.
Lucian: Are you afraid of me?
Raze: Yes.
Lucian: Well, do not be. I will not bite... much.
Lucian: I have no wish to remove one shackle from around your necks, only to replace them with one of my own. You'll have a choice: you can run and hide, or you can stay and fight. Any man who fights with me shall have his freedom and, if he wishes it; immortality.
Discussion Forum
Discuss Underworld: The Rise of the Lycans on our Movie forum!
News & Features