Untold Scandal
(2004)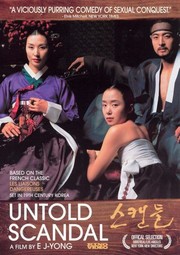 Untold Scandal Trailers & Photos
Movie Info
Based on the novel 'Les Liaisons Dangereuses,' this film is set in aristocratic 18th-century Korea at the end of the Chosun Dynasty. The irresistible temptress Lady Cho asks her cad of a younger cousin, Jo-won, to deflower the innocent young Soh-ok, who is to become her husband's concubine. But, his attentions soon shift to the graceful and aloof Lady Sook, who lives according to her convictions as a Catholic. Jo-won becomes obsessed with seducing this chaste woman who has remained celibate for nine years since her husband's death. However, conquering the most virtuous woman in the land proves to be more difficult than Chosun's notorious playboy expects.
more
Watch it now
Cast
News & Interviews for Untold Scandal
Critic Reviews for Untold Scandal
Audience Reviews for Untold Scandal
A marvellous adaptation of Les Liaisons Dangereuses, the best so far. Steady assured direction and brilliant performances help to elevate this Korean version very highly. Also the only one that really slashes deep with regards to the characters' despicable, but wholly human, motives. Advised viewing.
½
A very sensual, and beautifully filmed version of the Dangerous Liaisons story, with a Romeo and Juliet twist, from Korean director, Je-Yong Lee. The cast is superb, the script is crisp, and the cinematography is just breathtaking. Scene after scene unfolds, revealing the depth of depravity of the two main leads, Lady Cho (Lee Mi-Suk) and Cho-won (Bae Yong-Jun), as they play their games for keeps. And yet, not all is darkness and intrigue. We get to see their humanity as well, although in Lady Cho's case, it is only a brief tiny glimpse. One can easily imagine Melody Gardot's song, "Your Heart is as Black as Night" would be a fitting theme song for this. Strangely, as others have mentioned the soundtrack draws heavily on Western Classical music. Surprisingly, it fits. Nearly perfect.
Discussion Forum
Discuss Untold Scandal on our Movie forum!
News & Features