Vive l'Amour
(1994)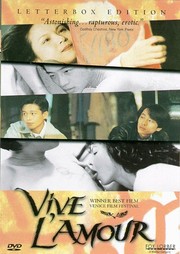 Movie Info
This second film by prominent Taiwanese director Tsai Ming-liang is a brilliant portrayal of isolation and urban disillusionment in modern Taipei. The movie focuses on three lonely souls: Hsiao-kang, a gay salesman of crematorium niches who wanders the city on his scooter; Ah-jung, a handsome street hawker of counterfeit designer goods; and May Lin, a struggling real estate agent. Hsiao-kang sneaks into a vacant apartment with a stolen key, takes a bath, and tries to slash his wrists. Meanwhile, May picks up Ah-jung and enters the same flat for a late-night tryst. As the film progresses, each character goes through the tedium of their lives: May waits in empty houses for prospective clients; Ah-jung hawks his wares while avoiding the police, and Hsiao-kang places fliers in anonymous mailboxes. All three use the unoccupied apartment at various times for their own needs without realizing the presence of the others, until Hsiao-kang and Ah-jung run into each other. After they both flee the place when May arrives, they develop an odd sort of friendship. ~ Jonathan Crow, Rovi
more
News & Interviews for Vive l'Amour
Critic Reviews for Vive l'Amour
Audience Reviews for Vive l'Amour
½
a nearly wordless film that works as a kind of homage to antonioni's themes, especially in 'l'eclisse'. three characters share an apartment, unbeknownst to each other as they almost never interact, a metaphor for the anonymity and alienation of big city life. beautifully done. i'm working through tsai's filmography in order and i recommend it highly
Stella Dallas
Super Reviewer
"Don't knock masturbation, it's sex with someone I love." - Woody Allen to Diane Keaton, "Annie Hall"(1977)

"Vive L'Amour" starts with Hsiao-kang(Lee Kang-sheng) stealing a key for a vacant luxury apartment and moving in where he suffers in his solitude. Even in an office full of partiers, he is miserable. After some flirtation, Mei(Yang Kuei-Mei), a real estate agent, takes Ah-jung(Chen Chao-jung) back to that same apartment for some quick anonymous sex. He likes the surroundings and decides to stick around for a while. So, while he and his housemate might have to worry about running into each other, they do not have to worry about the apartment being sold since the housing market is in shambles, leaving Mei out of luck. That does not stop construction all over the place, and at one point her car is blocked by a crane. She needs her car if she is to keep moving in an attempt to make a living in such desperate times where Ah-Jung mans an illegal sidewalk sale. So busy is she that she hardly has time to eat, much less have a relationship.

I told a friend of mine I was going into the city to see "Vive L'Amour," directed by Tsai Ming-liang, and he asked what his movies are about. I replied that they are usually not strong on plot, and are generally about loneliness which is certainly true here. In this case, Tsai Ming-liang directs with his customary exquisite panache and playful and melancholic sense of humor, with little dialogue to denote a lack of communication. In lesser hands, this would be just another bedroom farce, but he takes his time to fully explore the symbolism of closed doors and personal space in a city with no lack of it, just anything affordable. And while we all want a lot of space to live our lives, the cremation containers that Hsiao-kang sells is all we need when we die.
Discussion Forum
Discuss Vive l'Amour on our Movie forum!
News & Features