A Walk in the Sun
(1945)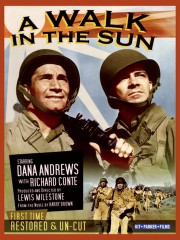 Tickets & Showtimes
Movie Info
Harry Brown's honest, unsentimental WW2 novel A Walk in the Sun has been effectively adapted for the screen by Robert Rossen. Dana Andrews stars as Sgt. Tyne, a platoon squad leader in Italy who ends up assuming command of his platoon after a series of deaths. As they prepare to attack an isolated Nazi-held farmhouse, each of the infantymen reveals his true character as he dwells upon his background and contemplates the job at hand. The film's effectiveness lies in the non-cliched characterizations by a carefully chosen all-male cast. Huntz Hall of "East Side Kids" fame is particularly good in a scene wherein he argues over whether the human body or the leaf is the most complicated natural structure. Director Lewis Milestone's use of a ballad to link the action predates High Noon by some seven years.
more
Cast
News & Interviews for A Walk in the Sun
Critic Reviews for A Walk in the Sun
Audience Reviews for A Walk in the Sun
Bruce Bruce
Super Reviewer
½
Respected director Lewis Milestone struggles to achieve the sound of fury as in Western Front.Well,there's exclamation alright and noisy distraction but where has all this aesthetic poetry gone?A minor triumph in spite of the many introverted sequences and non-linear battles.
Dimitris Springer
Super Reviewer
I don't want a purple heart in the head.

A group of American troops are sent into Italy on a mission to blow up a bridge. They often don't know their relevance, the goal of their mission, or why they are where they are in life; but as they march across the country, they discuss their ambitions and beliefs. The troops do catch themselves in vicious shootouts that try their inner strengths; but they work together, as brothers, to justify their existence and resilience.

"When a shell is looking for a guy, it doesn't whine, it snarls."

Lewis Milestone, director of Pork Chop Hill, Mutiny on the Bounty, Ocean's Eleven (1960), Les Miserables (1952), Of Mice and Men, and All Quiet on the Western Front, delivers A Walk in the Sun. The storyline for this picture is amazingly well written and the characters are compelling with perfect dialogue and interactions. The cast delivers wonderful performances and includes Dana Andrews, John Ireland, Lloyd Bridges, Sterling Holloway, and Norman Lloyd.

"I don't know what this platoon would do without me."
"Win the loving war."

I grabbed this movie while flicking through the channels after seeing the cast and storyline. I enjoyed the interactions between characters and the dialogue. The character development and overall premise was perfect. I strongly recommend seeing this underrated gem.

"There's three ways to do it: the right way, the wrong way, and the army way."

Grade: A
Kevin Robbins
A Walk in the Sun Quotes
Rivera: So that's what I am, huh? Whaddaya know. Where'd you get that malarkey, Jake?
Friedman: Out of a book.
Rivera: A book!
Friedman: You're a decadent democrat, Rivera.
Rivera: Good thing they invented trains for travelling salesmen.
Friedman: OK, kill me: what's the gag?
Rivera: No gag. But if they didn't have trains, all the travelling salesmen would have to walk.
Friedman: *You're* a travelling salesman; you ain't been taking any trains lately.
Rivera: Rivera: Whaddaya mean, *I'm* a travelling salesman? I'm a murderer!
Friedman: You're a travelling salesmen. You're selling democracy to the natives.
Rivera: You're a travelling salesmen. You're selling democracy to the natives.
Windy: Hey, Tinker? How do you spell 'Mare Nostrum?'
Tinker: What's that?
Windy: The Mediterranean. It's what the Eye-ties call it. It means 'our sea.'
Tinker: Why?
Windy: I'm writing to my sister.
Tinker: Whattya mean, you're writing to your sister? You're packed on a landing barge, bouncing on your Mare Nostrum, and waiting to hit the beach like the rest of us slobs.
Windy: A man's hands never seem to get clean, even if he don't touch nothing. They just stay dirty. Sort of a special kind of dirt. G.I. dirt. I bet one of those criminologists could take a sample out of a guy's fingernail, put it under a microscope, and say, 'That's G.I. dirt.' The dirt's always the same color, no matter what country you're fighting in.
Discussion Forum
Discuss A Walk in the Sun on our Movie forum!
News & Features